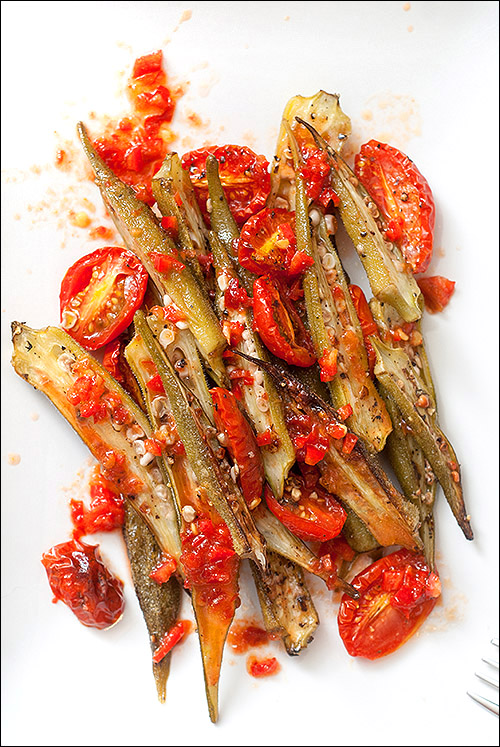 Roasted okra and tomatoes with chili garlic vinaigrette. © Ryan Schierling
My first experience with okra was decidedly unpleasant – an unfortunate "high-brow" circumstance wherein a vegetable galette included its overly-mucilaginous presence.
Then we moved to Texas. If you know anyone with a big garden in these parts, you're certain to find okra offered to you by the cubic bushel in late summer. Okra thrives in the heat and seems to defy the sun-baked earth, and it's been showing up on our doorstep for the last few weeks.
So, how do you say "no" – in good conscience – to the pound of okra that arrives with every late summer CSA delivery? 
We joined for the local and seasonal offerings, and it just wouldn't be right to turn it away or not make good use of it. 
What exactly are you supposed to do with this stuff? Common wisdom points immediately in the direction of pickling, making gumbo, or battering and frying. But there's only so much pickled okra that's going to get eaten at our house this year, and if I'm going to make a mess of my cooktop with a pot of boiling fat... well, I can't honestly say that okra is the first thing I'd choose to fry up.
In a flash of merciful recollection, Ryan remembered seeing a recipe for roasted okra and cauliflower salad in a cookbook we got last year – Smoke and Pickles by Chef Edward Lee. It has been our salvation over the past few weeks of CSA deliveries. (You can also find it featured in this post by CBS The Talk, where he was a guest last Fall.)