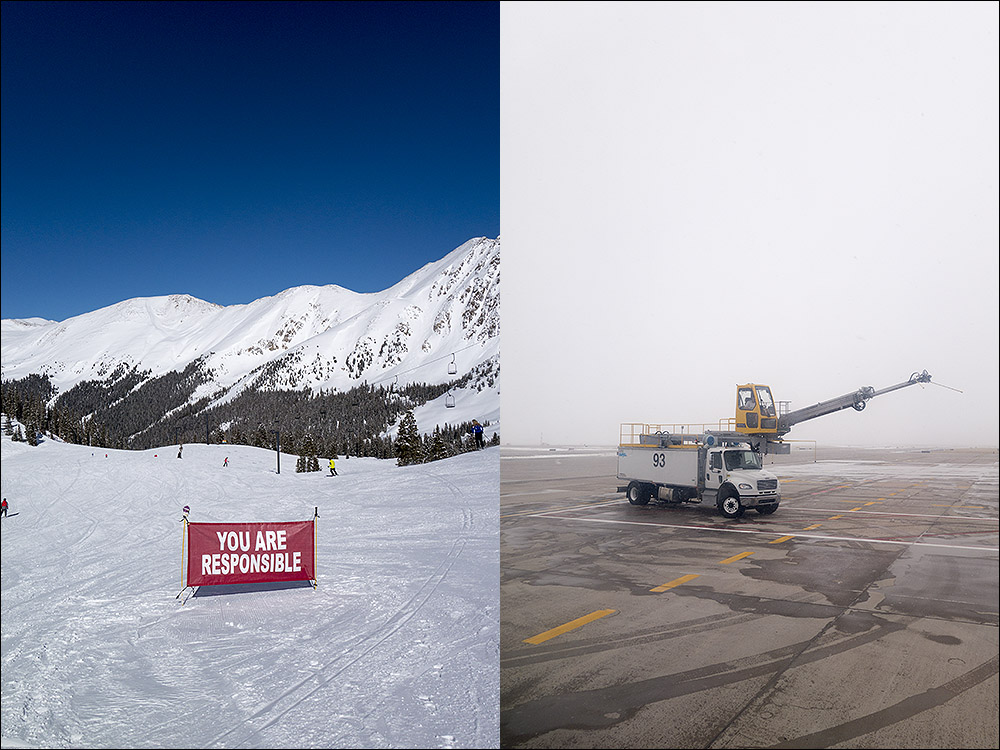 (L) Arapahoe Basin, Colorado. (R) Denver International Airport. © Ryan Schierling
We haven't been on a proper vacation in eight years, which is longer than this Foie Gras Hot Dog thing has existed and longer than we've been in Austin. The last time we hopped on a plane for some adventuring was 2006 when we took a week away in Hawaii – sunning, snorkeling, and sampling plate lunch and proper poke every chance we got. It's been far too long since we travelled for play, with a side of relaxing, dining and drinking.
Back in November, we thought it might be nice to see some snow and planned ahead for a Colorado trip. I've got history there, and though it's been nearly 20 years since I've set foot on and strapped in at Arapahoe Basin, mountain topography does not change. They've added a lift on the back bowl that I used to hike, there are a few new beers on tap and lift ticket prices are about $70 (!!!) more than what I remember, but The Legend is, and will always be, my absolute favorite place to ride. 
I spent the better part of the early 1990s faithfully snowboarding A-Basin two or three times a week. What is now called the "Early Riser Lot" was church at 7 a.m. Bad Religion at volume, changing into snow gear and finishing off a travel mug of black coffee before nodding at ski patrol and catching first chair behind them. From mid-mountain, it was just a hard left down to the Lenawee lift and 13,000 feet was minutes away. From there, it was a cruise to the right and a drop off Cornice Run, or left and as far as you could get traversing the East Wall before turning in and churning through powder in Land of the Giants. I rode a Burton Craig Kelly Extreme and that board, on that prominence, made a mountain man of me. Twenty years is too long to have been away.