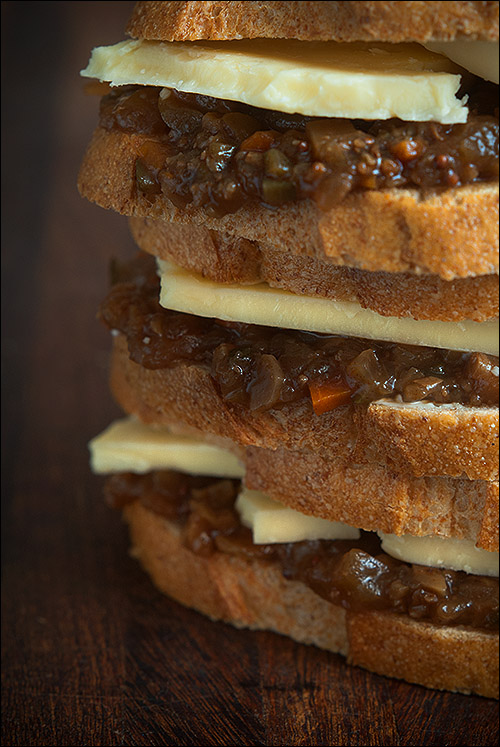 Homemade ploughman's pickle with English cheddar. ©Ryan Schierling
I cannot claim to have invented this sandwich, nor would I. It is a simple cheese sandwich with a legendary dark-brown English chutney-style spread that is bracingly tangy, crunchy, sweet, and a twee bit savory at the same time. If you're across the pond, it is a sin to eat a cheese sandwich without Branston® pickle.
I am not an Anglophile and I'm not across the pond, but I have been eating pickle and cheese sandwiches for a while now. I came by a jar of Branston® at a shop in Seattle in the late 90s, picked it up out of curiosity – one for me and one as a gift – and have been preaching the gospel of ploughman's lunch ever since. 
But I never, ever, ever thought to try and make pickle. It's like making ketchup, or catsup, or whatever. It's like making butter. It's like making mayonnaise or mustard. So few hand-make the staples anymore, they just buy them at the grocer. 
This tart, sweet,
"what-the-hell-should-I-do-with-this-mess?"
 condiment is not for everyone, but the Branston® traditional recipe has been the same for more than 90 years, and pickle fans are legion in the UK. It may be an acquired taste, though I also believe it's a very geographically-defined and refined taste.