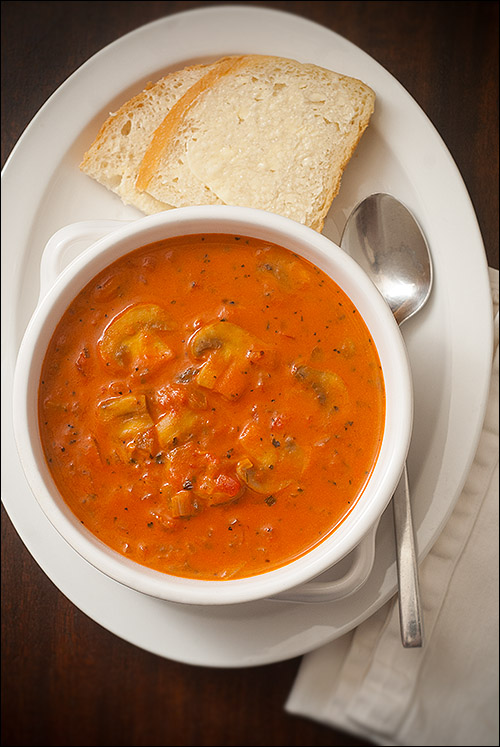 Tomato mushroom bisque with bread and butter. © Ryan Schierling
I moved from Emporia, Kansas to Fort Collins, Colorado in 1991. I was 19, and the little college town was blowing up with micro-breweries crafting incredible beer. If my parents are reading this, I certainly did not partake of alcoholic beverages until the day I turned 21. If you're anyone but my parents reading this, spending the previous year on a University of Kansas dormitory floor of brilliant art majors made creating fake IDs far too simple. Mine was used regularly until the day it was taken away by an overzealous doorman at a Fort Collins bar that shall not be named, and has since shuttered. No hard feelings.
New Belgium Brewing Company had just opened up shop with a dubbel named Abbey and a great little amber called Fat Tire. They only came in 22-ounce bomber bottles, and were unlike anything I'd ever had. O'Dell's Easy Street Wheat and 90 Shilling (still one of my favorite beers of all time) were of the same era, Left Hand Brewing started up in Longmont with their Sawtooth Ale, and soon it seemed you couldn't walk around the block without a new brewpub or home-brew store opening up.
CooperSmith's Pub & Brewing was in Old Town Fort Collins, and a short walk from my first apartment. A few years later, it was a short drive down College Avenue from my second apartment.