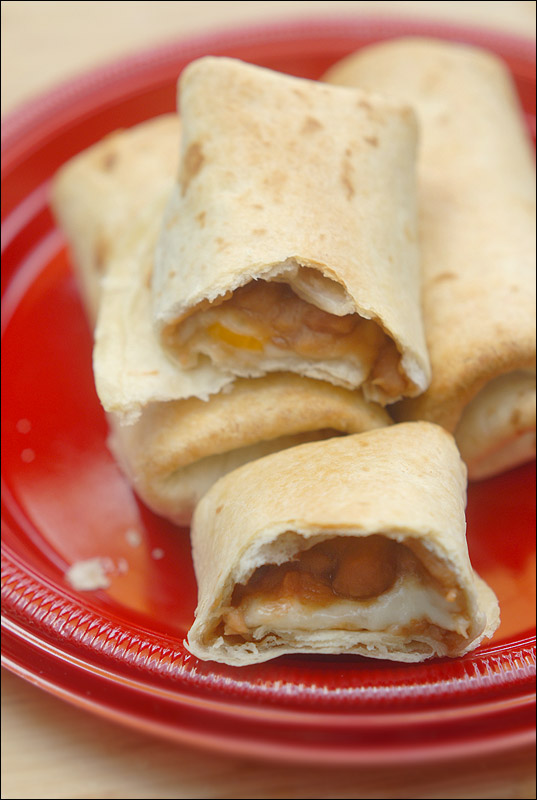 Midnight
crack
snack burritos. © Ryan Schierling
This weekend we attended a birthday party. Good people, good times, and - good God - there I found myself on an after-midnight drift in the direction of the food table...
When hunger kicks in, you naturally gravitate to what satisfies. What kept drawing me back on this particular night was a platter of miniature bean burritos; appetizer-style burritos you could eat in four bites. Nothing fancy about them, just flour tortillas with some refried beans and a little cheese. Um... and probably a load of sodium? I don't know, had to be, though, because these babies were hitting the spot like potato chips on game day.
I think I ate one too many, because on the way home the little fellas were sitting in my stomach like a tortilla and refrito brick. However, I knew the real trouble had begun when the next morning I woke up thinking "I totally have to make some of those!"
Taquito-size flour tortillas, a schmear of plain refried beans, monterey jack cheese - plus an obligatory sprinkling of kosher salt, of course. I didn't deviate. Okay, in the name of variety (and because our pepper plants are currently busting out the hot goodness) a thin slice of fresh jalapeno or habanero pepper were added to a few. Where I took necessary
liberties was with the cooking method – a magic little formula for cooking burritos with flour tortillas I discovered many years ago, almost by accident.
Back in the days when I didn't always have someone around to cook with, one of my have-on-hand standbys for lazy meals was a bag of frozen bean burritos from Trader Joe's. They were pretty plain if just defrosted and reheated, and I didn't own a microwave, so they also required a little patience and some time in the oven. I liked to finish them by pan-frying lightly to get a golden crisp tortilla on the outside.
One day, I just decided to try slathering every inch of the burrito generously with olive oil before sticking it in the oven. I used a tiny broiler pan with some foil under it so it could drip as necessary and toast up uniformly. The result was an amazingly flaky and crispy, not at all greasy, burrito - ready to be dressed with any of the good stuff my heart desired... salsa, lettuce, sour cream, olives, hot sauce.
© Ryan Schierling
As much as I would like to think I elevated those addictive little sodium bombs to the miniature homemade wonders they were aspiring to be, the truth is that I just wanted to make one more trip back to the food table for another satisfying nibble. This may well be the beginning of a dangerous mini-burrito infatuation... consider yourselves warned.