Spanish For 100's Corey Passons, somewhere in mid-America. © Ryan Schierling
Austin is the "Live Music Capital of the World."
The South by Southwest Music Conference and Festival – which currently draws some 12,000-plus registrants just for the music portion of the event – is a yearly influx into this city like none other. It's a lot of bands, because it's a lot of fans and the numbers are growing every year.
The majority of those bands are touring around the SXSW dates, and the festival is not just a destination, but one more stop on the highway to load in, play, and load out before hitting the road again for the next city. While they are here, they will no doubt ask someone "What's the must-eat" thing in Austin before we leave in the morning?" Or maybe they've played here many times before, and really dug on that Casino El Camino burger, great Indian food and beer at Whip-In, or some incredible taco joint on the east side that the bass player found and they've been going back ever since.
For non-Republic-of-Texas bands on tour, Austin is road food.
This is not to be confused with eating out while you're on vacation, which – for most people – is like eating at culinary theme parks.
Road food is local. Road food is honest, filling, and usually cheap. Road food is new things in new cities that you can't get back home in quite the same way.
I photographed two three-week cross-country tours with Seattle band Spanish For 100, and that's a lot of road food. A traveling band could eat at every McDonald's from Seattle to St. Pete's to Austin to Anchorage and back, but why would they? Tour is an adventure. You try new things without expectations when you're outside of your hometown comfort zone.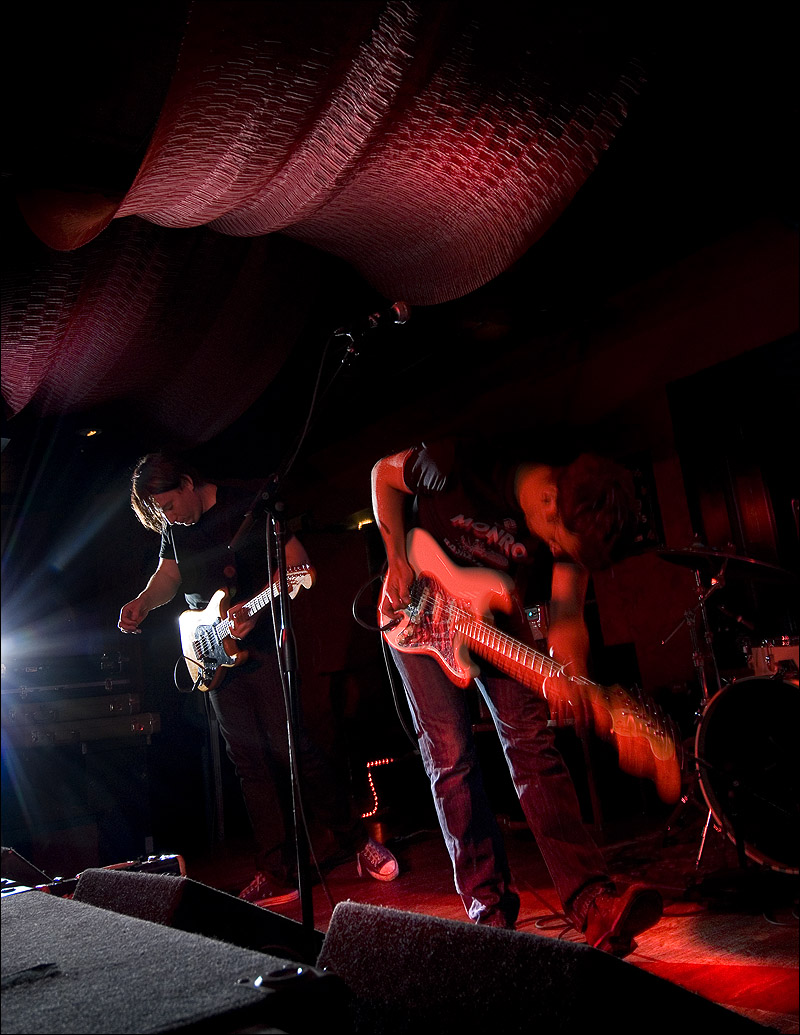 Spanish For 100 @ The Darkroom – Chicago, Illinois. © Ryan Schierling
Examples:
The Silver Corner Bar & Grill, in blink-and-you-miss-it Wallace, Idaho (population 843) is still the home of the best chicken-fried steak and eggs I've ever eaten. The small downtown was quiet at 7 a.m., with 100-plus-year-old buildings and a traveling fair setting up in the main street while we ate in a tiny kitchen area at the front of the long, dark bar.
Jack's Coffee Shop, in Wichita, Kansas, serves brilliantly simple hamburgers and cheeseburgers. There's no Jack, and there is no coffee. There's not even a sign on the building. No fries, no sides (unless you call a bruskly-pushed-across-the-table bowl of potato chips a side) and no toppings but grilled or fresh onions, pickles, mustard and ketchup… just well-executed enormous burgers that they've done for more than 50 years.
The Half Shell in Chicago, Illinois is a dark, dingy, downstairs restaurant of a bar/bar of a restaurant that serves you an inhuman portion of King crab legs atop an inhuman portion of french fries, with a 55-gallon drum of herbed garlic butter and two very tiny, frightened pieces of diagonal-cut white toast for a paltry $25. Aaron, Ross and I put away three pitchers of Leinenkugel's and three baskets of the King Crab Special.
Aaron and I walked five miles in flip-flops to Skyline Chili, mid-summer in Louisville, Kentucky heat to eat five-way chili. There were blisters and bleeding feet, but once we arrived, there were also knowing, appreciative nods at each other with full mouths. Mmm-hmm.
At D'Arcy's Pint in Springfield, Illinois, I became intimately acquainted with the "horseshoe," which Texas would do well to appropriate. The signature (open-faced) sandwich of Springfield, a horseshoe is two pieces of Texas toast with (your choice of) meat placed on each slice. It is topped (drenched) with either a traditional or spicy white cheese sauce and a pound or so of crinkle-cut french fries. Meat choices can include hamburger steak, pork tenderloin, Buffalo chicken, corned beef, Italian sausage, walleye… the list goes on. There are also smaller, "pony-shoe"-sized portions (but these are usually eaten by children and invalids).
Beef liver and onions was a throwback treat at Dakota Diner in Dickinson, North Dakota – sitting at the counter in hydraulic trucker seats that you could raise and lower with the flip of a wrist. It's the best liver and onions I've had since I was a (weird) kid and loved the ones my mom made.
Spanish For 100 @ S&S Cafe – Emporia, Kansas. © Ryan Schierling
This year, Spanish For 100 guitar player Aaron Starkey is here for South by Southwest Interactive on behalf of Seattle radio station KEXP and Microsoft. We knew we had a very short window of opportunity to stuff him with Austin's best eats.
There were drinks at Opal Divine's downtown until late, late Saturday night.
I told Aaron that Julie and I would pick him up at his hotel at 7:30 a.m. Sunday, bright and early. You see, Franklin Barbecue had opened their brick-and-mortar location Saturday morning, and went through 650-pounds of meat in two hours before putting out the the "Uncle!" sign… "Closed! Sold Out!" There were people camping overnight to be first in the queue, and I didn't want to (and didn't want him to) miss out on some of Texas' finest smoked meat.
When we (bleary-eyed) picked up (an equally bleary-eyed) Aaron and drove by Franklin a little after 8 a.m., there was no one there. So we drove over to La Michoacana Meat Market on E. 7th hoping to get some coffee and a bit of a snack to tide us over until 11 a.m. Seeing a flat-top grill, assorted steaming meats and sauces, a bad-ass salsa/condiment bar and a handful of tables, I was confident I could order us a light breakfast, but my Spanish doesn't go much farther than that. "Dos chilaquiles con huevos estrellado, y uno sope de desayuno." When one of the patient Hispanic ladies came out to deliver the sope and clarify the rest of the order in Español rapido, all I could do was shrug, smile and offer "My Spanish is sadly limited… como se dice 'white boy?'" She smiled, turned, and fetched a cashier who spoke English to complete our order.
Chilaquiles @ La Michoacana Meat Market – Austin, Texas. © Ryan Schierling
While I still prefer the chilaquiles at Curra's as my numero uno, these were a fantastic, unexpected find and we'll be back soon to practice my broken Spanish.
Thoroughly satisfied, we drove back to Franklin Barbecue to take our place at the head of the line.
I won't gush any more than I already have, but I think Aaron was stunned by the brisket. "This is a cheap plastic fork, not even a good plastic fork… it's a bendy little cheap plastic fork and it's running right through this brisket it's so tender," he said. "This is good beef. You can tell this is natural, happy beef by the way the fat tastes."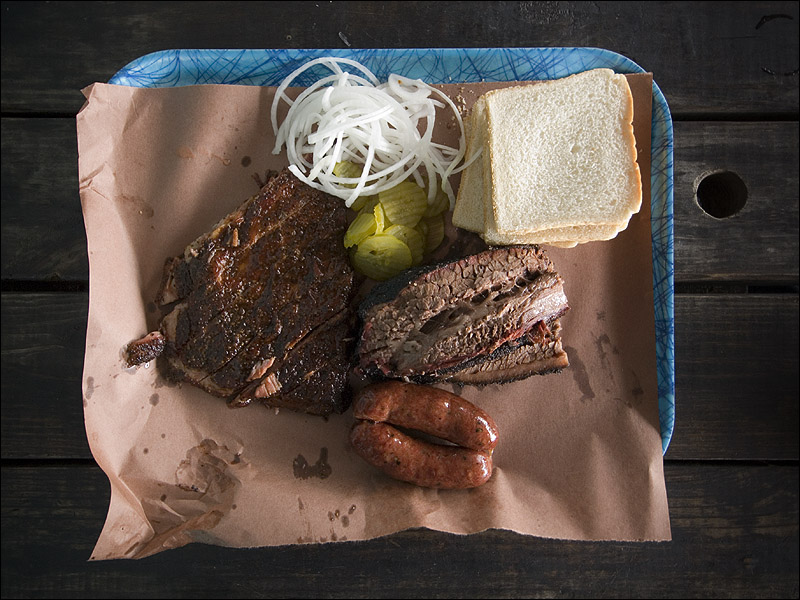 Franklin Barbecue – Austin, Texas. © Ryan Schierling
It's looking like Aaron will be in town until Friday now, so we're planning for a few more choice spots before sending him back to Seattle with a full belly. I mean, this is the man who introduced me to such tour stops as Maid-Rite, and P.T.'s in Oak Grove, Missouri. I owe it to him.
I trust fellow Austinites are telling traveling bands to go eat at some of the finest trailers / stands / trucks / dives / bars / holes-in-the-walls / joints / cafes / restaurants that Austin has to offer.
Because truly, we've got some of the best damn food in the world.