Keema matar, with ground goat. © Ryan Schierling
When it comes to the things we cook at home, sometimes a tangent strikes and we indulge ourselves with reckless abandon. Other times a commitment is made and we have to nudge each other a little into that delicious new territory. Last fall, when we discovered a wonderful family-owned Indian grocery close to where we live, we decided that this was the year to give it a go. Why not?! It's close and convenient, we love supporting a local specialty business and it's about darn time we get it on with a new cuisine. We love Indian food, but it is relatively unfamiliar to our kitchen and we fully expected that this would be a process of conscious baby steps in a new direction. Little did we know that a pound of ground goat meat would be our sudden formal entry point.
One day – for whatever reason – Ryan decided we needed to buy some goat. He found a source at the local Sunday farmer's market and we were going to go get some. I still don't know what he thought he was going to do with it, because before he even got that far I told him I knew of the perfect recipe! Yes, in fact, I had actually tried goat meat. It was over a decade ago, but I remembered
clearly
the texture, savory flavor of the
glistening
richly-spiced sauce, and the hummus and flatbread that accompanied it. I just didn't know what it was called.
It turns out that the delicious meal I had been served those many years ago featured Keema Matar. Although "keema" commonly refers to beef, the original meaning of the word is "minced meat" and the dish is decidedly amenable to alternates. My first taste of it just happened to include goat.
Steve and Brandy lived and worked in the Arabian Gulf for the better part of the 1990s and due to their schedules ended up adopting this dish as a morning food of choice. Though not necessarily regarded as a first dish of the day, they have continued to make this a regular breakfast item in the years since they moved back to the States, and they were more than pleased to share their recipe when I asked. Sure, there are many reputable sources we could have used for reference, but this version, like any good family recipe, is a gift – tried and true, faithful and loved – and it's how we ended up cooking our goat.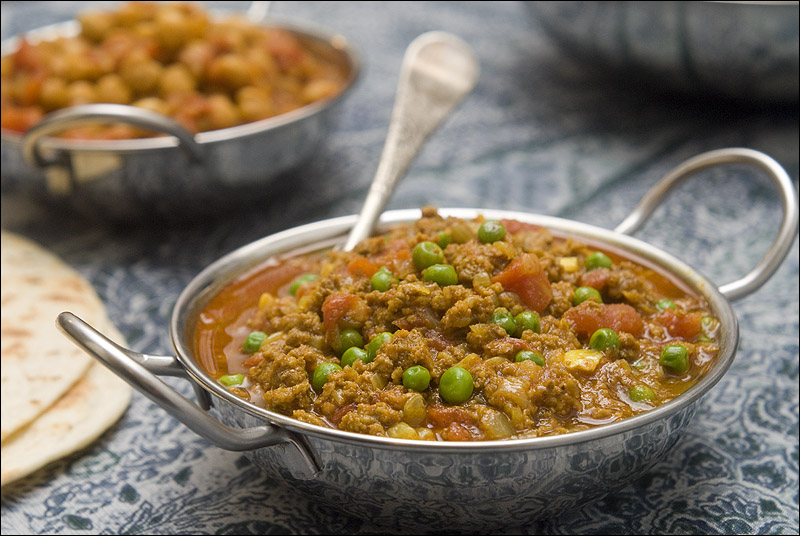 Repast of champions. © Ryan Schierling
At Steve and Brandy's suggestion, some warm fresh flour tortillas fill the role of roti or a paratha. Along with a batch of chana masala and a smooth hummus whipped up in the food processor, we enjoyed a satisfying feast for days.
Keema Matar
(Beef with Peas)
1 large onion, finely chopped
3 Tbs peanut oil or vegetable oil
3 cloves garlic, crushed
1 tsp garam masala
1 tsp chili powder
1 Tbs grated fresh ginger
2 tsp ground turmeric
1 tsp crushed cardamom seeds
1 pound of ground meat
1 14-½ oz can tomatoes with liquid
½ cup frozen peas
1 cup water
Salt to taste
Brown ground meat in pan, drain and set aside. In pan fry onions in oil until lightly browned. Mix the garlic and the spices, add to the onion and fry gently for one minute. Add the meat, tomatoes and peas. Add water and simmer covered until the meat is tender and most of the liquid is absorbed and flavors merge. One to two hours.