Smoked salmon dip w/ homemade crackers. © Ryan Schierling
Julie and I have different stories for how we obtained this recipe. She swears we reverse-engineered it straight from the Larry's Market ingredient list on the side of the plastic to-go container. I swear we begged for it from the fishmonger at Larry's Market in Seattle before the chain was bought out under Chapter 11 bankruptcy protection, afraid that our favorite in-house-made smoked salmon dip would never be seen on their refrigerated shelves again.
It's been years and years that we've been making this dip, and the scrawled notes on a loose piece of 8 1/2" by 11" paper tucked into our overstuffed recipe binder hold no further clues to its origins, so I'm going to side with my (perhaps misplaced) nostalgia and simply attribute it to cousin Larry from Seattle.
Get yourself a nice piece of fresh Alaskan salmon. Our local grocer was laying out sides of never-frozen Alaskan coho (silver) salmon, and that was all it took for me to get on the phone and tell J to start making crackers. Find yourself some chunks/chips of apple wood.
Remove pin-bones with a pair of tweezers and brine that fish in a 50/50 mixture of kosher salt and brown sugar dissolved in a couple gallons of water, for about eight hours. Rinse, pat dry, and let sit out at room temperature for 3-4 hours, periodically making sure your cats have not expressed an interest in the fish. This drying time ensures a nice tacky pellicle will have formed, allowing the wood smoke to really adhere to the salmon and keep moisture in while the fish is kippering on the grill or smoker.
Soak a few good handfuls of apple wood in water for half an hour. Set aside a few good handfuls of dry apple wood. If using a kettle grill, set up the coals for indirect grilling – coals on one side, and a disposable aluminum pan filled with a few inches of water on the other. Ideally, your grill or smoker will be between 150- and 190-degrees. If it's hotter, that's fine, but this isn't a race... you're just going to have to keep a closer eye on the internal temperature of your fish.
Place the wet and dry apple wood on your coals. Here comes the smoke. When using a kettle grill, I open the bottom vent and close the top. When using an offset barrel smoker, I close the top vent and adjust the firebox vent according to my smoker temperature. Kipper the salmon, thick part of the filet toward the firebox, until it reaches an internal temperature of 130-degrees in the thickest part of the filet. Remove and let cool.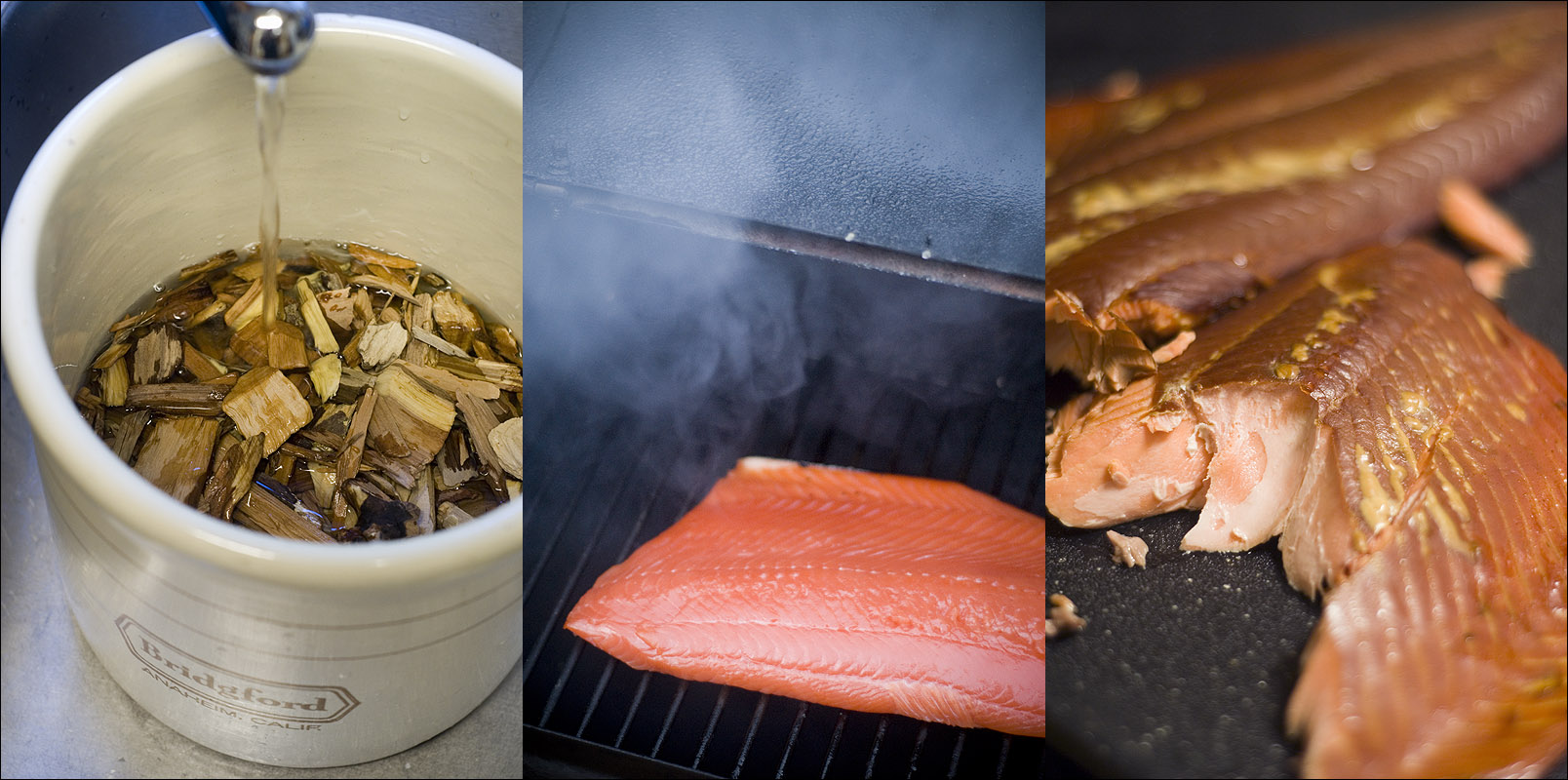 I gotta go water the wood. © Ryan Schierling
Or, save yourself 12 hours, spend four times as much and get a 4 oz. piece of pre-packaged, already-smoked salmon. It's up to you, and this isn't a recipe for smoked salmon... really, it's a recipe for smoked salmon dip. So, uhm, here it is... straight from the archives.
Salmon Dip (like Larry's Market)
8 oz. cream cheese, softened
1/4 cup real mayonnaise
1/2 teaspoon Tabasco sauce
4 oz. hot-smoked (kippered) salmon
4 tablespoons green onion, finely chopped
Mix first three ingredients together in stand mixer, with whisk attachment, until light and fluffy. Crumble in the smoked salmon (check well for bones) and add green onions. Mix until evenly incorporated. If desired, add additional Tabasco at this point, to taste (we use closer to 1 teaspoon). Serve with your cracker of choice.