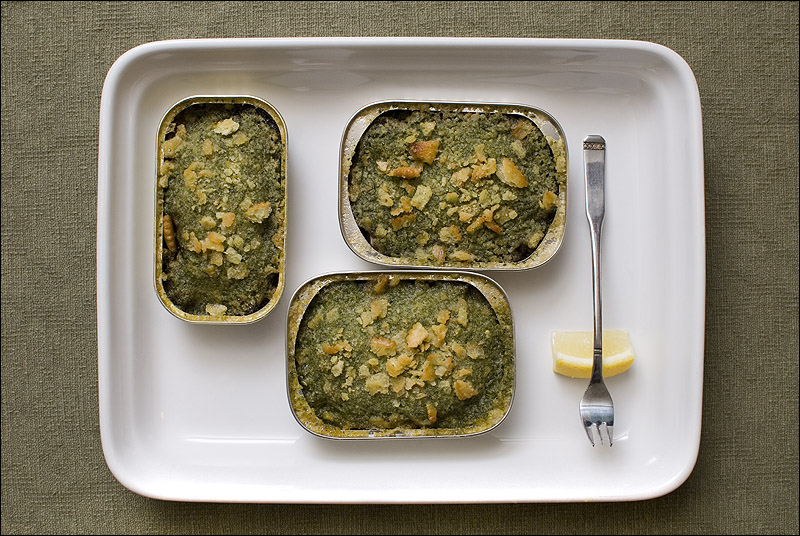 Because not everyone can have Oysters Rockefeller. © Ryan Schierling
Not everyone knows this, but when we decided to create this blog, we made a list of possible names that would be somewhat descriptive of our highbrow/lowbrow sensibilities when it came to cooking. We wanted a name that was catchy, and a little quirky and fun. After whittling down a long list of sophisticated silliness, the top two choices were Foie Gras Hot Dog and Oysters Jones. Foie Gras Hot Dog came out on top, obviously, and Oysters Jones (because not everyone can have Oysters Rockefeller) was forgotten.
Until today.
I'm not going to give you a history lesson on Jules Alciatore or Antoine's in New Orleans or how Oysters Rockefeller originated more than 110 years ago. I'm also not going to get into the heated debate over the inclusion or absence of spinach in the original Oysters Rockefeller recipe. Like Jules, I used what I had on hand for the sauce (in this case, the Jones sauce which is still rich... it just ain't Rockefeller rich). The tinned, smoked oysters are low-budget, lowbrow - a couple bucks a can. There is no Herbsaint or Pernod. The tarragon is actually Mexican Mint Marigold, which has a tarragon-like flavor with hints of anise. The fanciest thing in this recipe might be the buttery Ritz crackers, which I've heard people tend to eat smoked oysters with anyway. That said, all apologies to the late Mr. Alciatore, Antoine's, and anyone who truly enjoys a good fresh oyster. I give you... Oysters Jones.
6 tins smoked oysters
6 spinach leaves, minced
4 sprigs parsley, minced
4 green onions, minced
6 tarragon leaves, minced
30 Ritz crackers
6 tablespoons softened butter
10 drops hot pepper sauce (Crystal or Tabasco)
salt and pepper to taste
lemon wedges
Mince the spinach, parsley, green onion and tarragon until your hand is sore. Seriously. Mince everything far more finely than you think is necessary. You're almost there. Keep mincing. Is everything broken down to green sub-atomic particles? You're there. Scrape the pulp into a bowl and add the softened butter, hot sauce, a pinch of salt and some freshly-ground pepper. Put 20 Ritz crackers in a plastic bag and smash them to bits. Alternately, you can put the crackers in a food processor and whiz it up that way, but smashing them is more fun. Mix the cracker crumb meal into the green butter. Take the remaining 10 Ritz crackers, break them up and set them aside.
Open the tins of smoked oysters and drain all of the oil out of the containers. Put a hearty dollop of the green mixture on top of each tin of oysters, spreading it out to cover well. Top with the crumbled Ritz crackers you set aside. Put the oyster tins on a cookie sheet and bake at 400-degrees for 10 minutes, or until bubbly and the crackers are browned. You can hit it with the broiler for a minute or so at the end if you like. Serve with a squeeze of lemon and a few more drops of hot sauce.
Serves 6.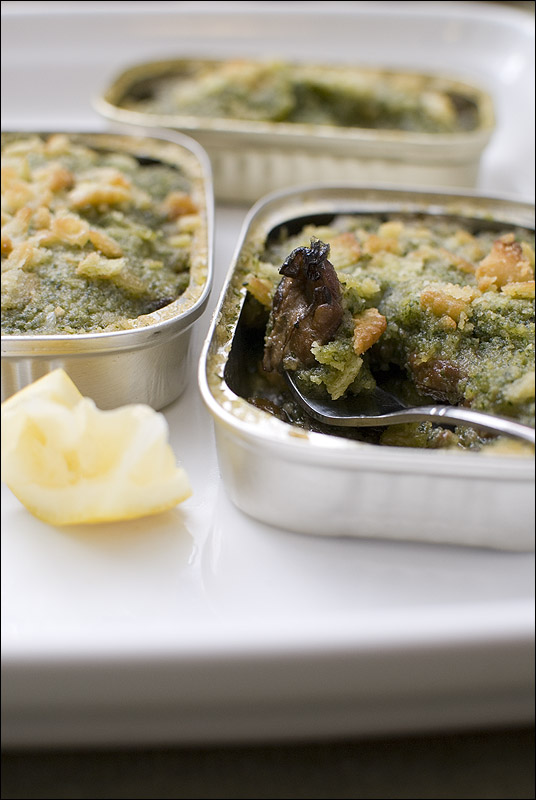 How you like dem erstas? © Ryan Schierling