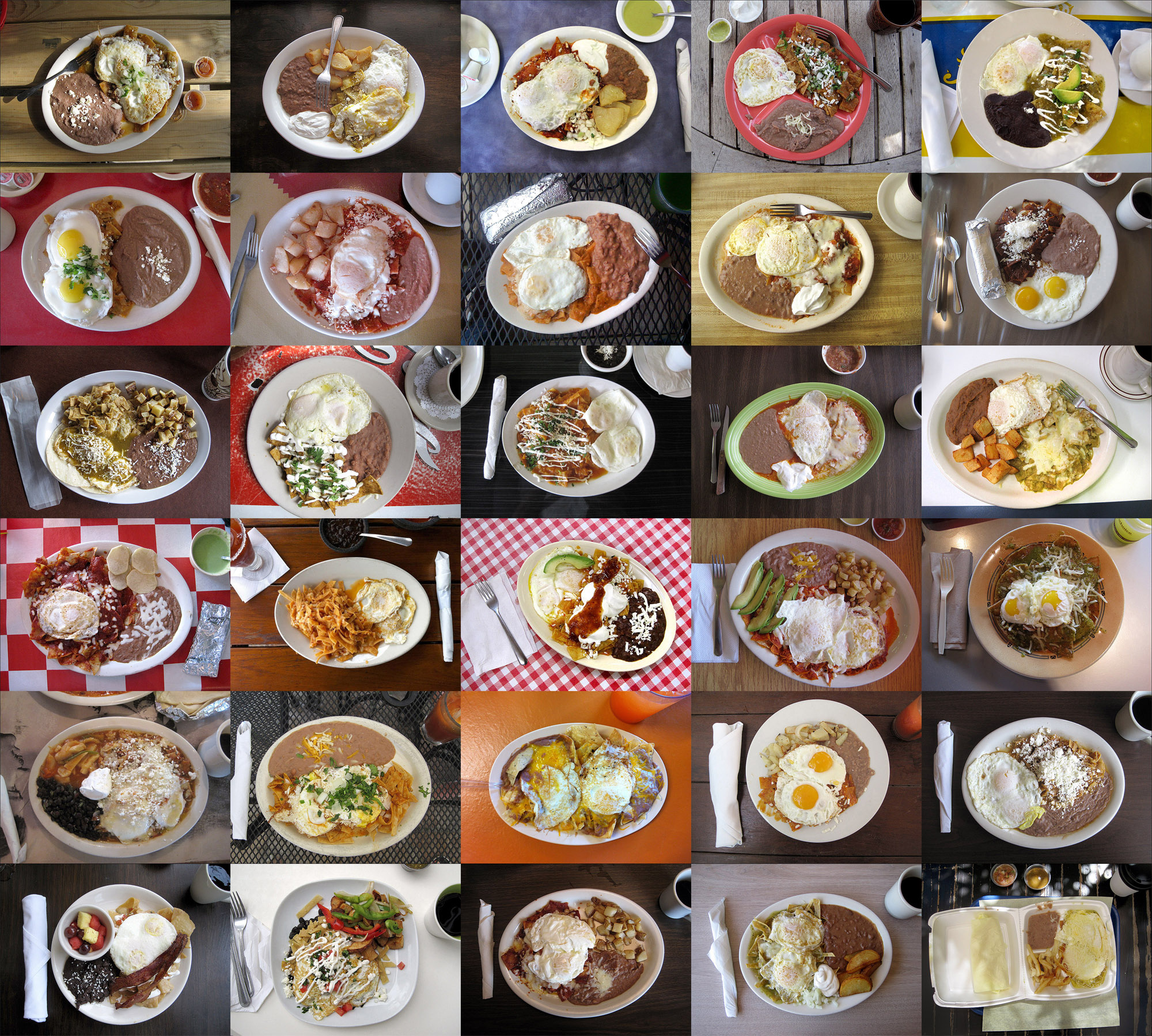 30 chilaquiles. (Click this image only if you have a gigantic monitor.) © Ryan Schierling
(FGHD editor's note: This post has been superceded – with an added 35 plates of chilaquiles – by The *New* State of Chilaquiles in Austin, Texas.)
As a lot of you know, we've been on a
epic
, epicurean quest – a grand gustatory gamble with breaking the fast deep in the heart of Texas.
We've been scouring Austin for the very best chilaquiles it has to offer. We've torn apart the town, top to bottom, for more than a year sampling both highbrow and humble versions of this traditional Mexican dish.
There are no shortage of restaurants offering up their take on what shouldn't really be more than crisp fresh-fried tortilla chips (totopos) simmered with a red or green sauce until just slightly softened, crowned with a pair of properly-cooked eggs. With such a simple preparation, you'd think it would be difficult to screw up this classic.
We weren't looking for haute cuisine a la Mexicana, we just wanted an honest, reliable, simple Sunday morning comfort-food breakfast at a joint where everyone might eventually know us (and our broken Spanish).
There were standouts, certainly, but just as often there were store-bought chips, soggy and swimming in sub-par sauces, eggs that were under-cooked, over-cooked or not even offered as an option. There were some surprises, and there were some disappointments.
There were also some stunningly brilliant breakfasts.
If a restaurant presented only one sauce option for chilaquiles, Julie and I would typically order the same dish. If a restaurant had both verde (green) and rojo (red), we'd order one of each. The majority of the time, we'd order eggs over-easy. If we knew the eggs were going to be happy eggs (see $9 chilaquiles), I'd go for sunny-side-up. Beans, potatoes and accoutrements (if available) were taken into consideration, as was the coffee or aguas frescas. The overall experience was key, but really, it all came down to the chilaquiles.
We've done our due diligence, and now, we humbly present to you five establishments that Julie and I both agreed have the finest chilaquiles in Austin (along with one restaurant from each of us that we feel should be included as well). These are our favorites, the places we return to time and time again.
These chilaquiles are the best of the best.
Señor Buddy's (8600 U.S. 290, Austin, TX 78736)
Señor Buddy's chilaquiles. © Ryan Schierling
Who knew we'd find the holy grail of chilaquiles in the back of a gas station off Highway 290? This Curra's outpost was one of the first stops on this crazy quest, and they set the bar high with an impossibly-fresh plate – made before your very
ojos
and handed to you across the counter of the open kitchen moments after the onion and cilantro garnish hit the hot
huevos
. The sauce is a delicious mixture of verde and chipotle, the tortillas are cut and fried the instant you place your order, and the beans are a minor morning miracle with just a dusting of queso fresco. (Ryan)
Notice that there are no potatoes? And the absence of sour cream? You know you've got a winner when they're so good you don't even miss those little extras. Perfect every single time. (Julie)
La Fruta Feliz (3124 Manor Road, Austin, TX 78723)
La Fruta Feliz chilaquiles. © Ryan Schierling
I remember
exactly
how I was feeling the first morning we stopped in at La Fruta Feliz. I was supremely hungover, but hopeful. I'd heard great things about the chivo, but was more excited for the chilaquiles. This was one of those cases though, as we were the
only
gringos in the joint, the cook decided to have a little fun at what he thought might be our expense. Slipping some habanero into the verde sauce burned every last cobweb out of my cluttered cabeza, which was exactly what I needed. When the cashier took my money at the register, he queried "Were they hot enough for you?" The cook to his left was grinning wide as the Rio Grande. I narrowed my eyes a bit and gave him half a smile. "It was perfecto." Subsequent orders of chilaquiles have still been delicious, but apparently sin habanero and not nearly as spicy as that first glorious visit. (Ryan)
Always unfussy, these chilaquiles – red or green – are terrific (though green is our go-to). Delightful, too, that the service here includes a bowl of chopped onions and fresh cilantro in addition to their hot sauce offerings. I'm not suggesting you should mess with a good thing, but having options here is cool. If coffee is not your cup of tea, this is the place to order an agua fresca. They have a wide selection – the sandia (watermelon) and fresa (strawberry) are particular favorites of ours. (Julie)
La Casita (1519 West Anderson Lane, Austin, TX 78757)
La Casita chilaquiles. © Ryan Schierling
There is a fine line between overcooked and undercooked potatoes when it comes to accompaniments. At most places where potatoes are included they'll arrive slightly dry and overcooked, or occasionally slightly undercooked and equally under-seasoned. These are perfectly tender potatoes that don't just hang out on the plate to look pretty, they actually act as a wonderful flavor ballast to the spicy richness of the chilaquiles and over-easy egg. There's something rather divine about these simple potato slices when you drag them through the sour cream and a bit of frijoles. Their rojo version is a little chile-based enchilada sauce-like, but thoroughly satisfying on a chilly Sunday morning. The verde version is simply dreamy. Bonus points for serving good fresh coffee and offering, should your morning require it, real half-and-half instead of non-dairy creamer. (Julie)
If you were to judge the well-worn strip mall on Anderson Lane that houses La Casita by appearances only, you'd keep driving. The corner unit hides a vibrant decor, a friendly waitstaff and a tiny kitchen putting out perfectly-executed chilaquiles, both rojo y verde. We visit often. (Ryan)
Paco's Tacos (1304 East 51st Street, Austin, TX 78723)
Paco's Tacos chilaquiles. © Ryan Schierling
I got caught stepping out on Julie with this one. Actually, I didn't really get
caught
so much as I just felt guilty for sneaking away on a weekday while she was at work and trying Paco's Tacos offering of chilaquiles by myself. To be honest, I didn't know what to expect and figured I'd be taking one for the team. Turns out, the chilaquiles with ranchero sauce were absolutely
delicious
, and I had to fess up and bring Julie back for breakfast that weekend. (Ryan)
This is one sweet little plate of chilaquiles. The sauce tastes to be a mix of a some kind of rojo and verde – rather along the lines of Señor Buddy's – but it has a spicy personality all its own. The portion is of delightfully-reasonable size with a single egg and no fuss. To make for a particularly well-rounded morning experience, the service is charming and the coffee hits the spot. (Julie)
El Alma Cafe (1025 Barton Springs Road, Austin, TX 78704)
El Alma Cafe chilaquiles. © Ryan Schierling
This was our third or fourth foray into "fancy" chilaquiles. Fancy chilaquiles are usually the Sunday brunch ones that have the perfectly imperfect squiggle of crema on top, some beautiful avocado, happy eggs from happy chickens, and a nine-to-twelve-dollar price tag. More often than not, fancy chilaquiles are a disappointment. Not so at El Alma. The totopos were handmade, thick, and sauced with a salsa verde so fresh you could taste each individual ingredient playing on your tongue. There was wonderful coffee and the most attentive waitstaff of any of the restaurants we visited. (Ryan)
This is one of the few places we've seen refried black beans, and my compliments to the chef for this singular choice with the tangy fresh verde. I think it works brilliantly together with the richness of the eggs, runny and cooked to perfection. I appreciate, as well, that these aren't chilaquiles re-imagined, they are quite recognizable and straightforward in spite of the change-up of bean variety. Overall, it was a well-balanced, well-seasoned plate proving that lovely and unique does not necessitate abdicating essential chilaquiles-ness. And the coffee..? Oh, my. When we're out for chilaquiles, I'm just happy if I can get black coffee that is palatable and wakes me up. This? This was like waking up to angels singing. More than worth the price of admission. (Julie)
Taqueria La Chapala (4201 South Congress Avenue #4, Austin, TX 78745)
Taqueria La Chapala chilaquiles. © Ryan Schierling
Until we walked into this little South Austin taqueria, I
was absolutely convinced that I did not and would not like any chilaquiles with melty cheese. A touch of crumbly queso fresco is always a delight, but every other time I've had them with melty cheese, it has been problematic. It's either an excessive gloppy mess that overwhelms the chips and sauce, or the cheese cools at a faster pace and leaves you with rubbery
lumps to push around your plate. But, by some wizardry, here it works every time. The green sauce – my favorite – has a bright citrus tang and is mild (not spicy). The red is also mild and distinctly 'ranchero' in flavor, but very fresh tasting. The touch of sour cream is a value-added compliment, as is the fact that you can enjoy the coffee black. For consistently outstanding chilaquiles with melted cheese, these earn high honors.
(Julie)
Janitzio (600 West Martin Luther King Jr. Blvd., Austin, TX, 78712)
Janitzio chilaquiles. © Ryan Schierling
Janitzio was a last-minute dark horse, and although they had
horrible
coffee, they put together a chilaquiles verde plate that was near-perfect. The nicely-simmered chips and fiery green salsa, the rich refritos and tender potatoes, the tablespoon of diced white onion and dollop of sour cream fit together flawlessly. If one element had been missing or just average, I don't think Janitzio would have made the cut for me. But it did, and I'll eat those chilaquiles again and again. I just won't drink the coffee. (Ryan)
The 23 runners-up – in alphabetical order – are as follows:
Casa Garcia (1901 West William Cannon Drive, Austin, TX 78745)
Casa Garcia chilaquiles. © Ryan Schierling
Offered with either red, green or guajillo sauces, Casa Garcia's chilaquiles were rustic and pretty, filling, but only average. On our second visit, it took several requests to get our eggs once the chilaquiles plate had already been delivered sin huevos.
(Ryan)
I was so hopeful for this place, too, since it's near our South Austin neighborhood. We didn't try the guajillo sauce, but it was the least recommended when we asked. Sadly, there was nothing outstanding about either the green or the red. (Julie)
Chango's Taqueria (3023 Guadalupe Street, Austin, TX 78705)
Chango's Taqueria chilaquiles. © Ryan Schierling
Chango's offers a spicy verde sauce over a large plate of thick and very crispy chips, but it was missing some much-needed sour cream or
crema to balance out the strong flavors of the sauce.
(Ryan)
This is a potent plate with substantial totopos, which is far better than soggy flacid ones. I liked these and would eat them again – especially if I was looking for a kick of heat – but would definitely suggest sharing the plate and ordering sides of refried beans and sour cream. (Julie)
Curra's (614 East Oltorf Street, Austin, TX 78704)
Curra's chilaquiles. © Ryan Schierling
Curra's, in theory, should share the same top billing on our list that Señor Buddy's occupies. But it doesn't for me, because even though it's the exact same dish, it's never quite as good. Curra's coffee, however, makes it very apparent that Señor Buddy's is a gas station, serving gas station coffee. (Ryan)
I would argue that Curra's already has
and deserves
(see Señor Buddy's) an adjunct top bill slot. If you are new to chilaquiles, these will provide a high-level baseline for further exploration. Delicious! (Julie)

El Arroyo (Far West) (7032 Wood Hollow Drive, Austin, TX 78731)
El Arroyo (Far West) chilaquiles. © Ryan Schierling
Occasionally we come across a plate where the sauce is thin to the point that either the chips get soggy or it just feels like you're eating a plate of flavored tortilla chips. The sauce should be substantial enough to be seen and experienced independently, to some degree, and as the chips soften there should remain fried tortillas with a bit of crunch to them. The sauce here had a good flavor, but it lacked substance and the plate was poorly executed, especially for the price. (Julie)
Long, thin tortilla strips (similar to Maudie's) simmered in a thin, tangy salsa. The eggs were overcooked, the dish was overpriced and the waitstaff was inattentive. If only they served chilaquiles at The Ditch downtown... (sigh). (Ryan)
El Chile (1809 Manor Road, Austin, TX 78722)
El Chile chilaquiles. © Ryan Schierling
Strangely sweet sauces for both the ranchero and green options. It was by all other measures a perfectly-presented plate – over-easy eggs and all – it just wasn't singing our song. (Julie)
El Rincon (200 East Pecan Street, Pflugerville, TX 78660)
El Rincon chilaquiles. © Ryan Schierling
El Rincon puts out a good, middle-of-the-road chilaquiles plate with nicely-cooked eggs. The red was deeply-flavored and rich like Las Cazuelas and the green was fresh and piquant. The beans were delicious. (Ryan)
The green sauce here had a more definable tomatillo character than most, and was quite good. For some reason the dish got soggy quickly. Real sour cream is available, but is brought to the table in small tubular squeezy packets. (Julie)
El Taquito (1713 East Riverside Drive, Austin, TX 78741)
El Taquito chilaquiles. © Ryan Schierling
Tiny square totopos, tiny square potatoes, and whole corn tortillas underneath the eggs. I wasn't quite sure what to make of El Taquito's plate, but the chilaquiles rojo were full of flavor, while the green needed a little supplement of heat from the impressively well-appointed salsa bar. Both beans and potatoes were forgettable. (Ryan)
Light and bright with a big open kitchen and large TV screens in the dining area, I got the feeling that while offering a nice variety of breakfast fare this place was generally more focused on the late-night life. (Julie)
Garrido's (360 Nueces Street #10, Austin, TX 78701)
Garrido's chilaquiles. © Ryan Schierling
I like fruit, but this plate could neither be judged on the fruit or the optional bacon. Unfortunately, this one was lacking balance in the chilaquiles department. The ratio of totopos to sauce was way off, as if they were just dressed with a little bit of sauce instead of given a quick simmer. (Julie)
The bacon was the best thing about these almost-flavorless chilaquiles. Sorry, Garrido's. (Ryan)
Hecho En Mexico (6001 West William Cannon Drive, Austin, TX 78749)
Hecho En Mexico chilaquiles. © Ryan Schierling
Perfectly-cooked eggs, but fussing up what looked and tasted like "out of the bag" tortilla chips was simply unforgivable at this snazzy-drizzle price point.
(Julie)
I really wanted to like these chilaquiles, but they were a little too precious, a little too fancified, and that unfortunately didn't add up to a delicious dish that tasted like it was "made in Mexico." Attentive service and good coffee.
(Ryan)
Las Cazuelas (1701 East Cesar Chavez Street, Austin, TX 78702)
Las Cazuelas chilaquiles. © Ryan Schierling
Generous portions for your food dollar and certainly tasty, though with its rich sauce it can be a bit of a palate-overwhelming plate. The potatoes are a little underdone for my preference. The complementary chips and salsa will spoil you, though. (Julie)
The first time we visited Las Cazuelas I was stunned that we could get two orders of chilaquiles and a pair of coffees for less than 10 bucks. I felt like we were ripping them off. The portion size is a little smaller than the gigantic platter it used to be, but the price hasn't changed. It's not the best chilaquiles in town, but at $3.95, it's still a steal. (Ryan)
La Michoacana Meat Market (1917 East 7th Street, Austin, TX 78702)
La Michoacana Meat Market chilaquiles. © Ryan Schierling
If you ever thought about learning a little Spanish, the most important words and phrases to know are related directly to the ordering of breakfast. Trust me. La Michoacana Meat Markets are scattered throughout Austin, and you can get a mean plate of chilaquiles for next to nothing. (Ryan)
These are some beautiful chilaquiles, but I think I was focused on an even prettier plate of sopes de desayuno that day. (Julie)
La Placita (5310 South Pleasant Valley, Austin, TX 78744)
La Placita chilaquiles. © Ryan Schierling
The totopos were emasculated by the sauce and covered in congealed cheese, but the beans were rich and porky and the eggs were nicely-fried. (Ryan)
Under certain circumstances, I can appreciate a slightly porky flavor in refritos. These were a bit much for me, personally. Don't get me started again about the goopy cheese. (Julie)
Maudie's Hacienda (9911 Brodie Lane, Austin, TX 78748)
Maudie's Hacienda chilaquiles. © Ryan Schierling
An overly-salty, cheesy, runny-sauced debacle. One visit was one too many. (Ryan)
Since they only offer one variety of chilaquiles, I ordered something else this particular day. Thank goodness. (Julie)
Mi Ranchito (1105 Farm to Market 1626, Manchaca, TX 78652)
Mi Ranchito chilaquiles. © Ryan Schierling
This little Mexican joint where Manchaca Road dead ends at FM1626 is an out-of-the-way, hole-in-the-wall kind of place you want to become a regular at. Everything was fresh and hot, but the chilaquiles were soggy and tasted like straight-up enchilada sauce. (Ryan)
The totopos here were super thin and just couldn't stand up to the sauce treatment. The plate looks so honestly composed, I keep thinking that with a few tweaks they have so much potential... (Julie)
Mr. Natural (2414 South Lamar Blvd., Austin, TX 78704)
Mr. Natural chilaquiles. © Ryan Schierling
Mr. Natural offers a decent plate of chilaquiles, but the consistency varies depending on the restaurant location and who's preparing your food that day. The first time we visited was fantastic. Every other time was hit or miss, with completely different preparation and plating. (Ryan)
You might be gambling a bit with the chilaquiles, but for a heavenly head-clearing agua fresca you can do no better than their pineapple-spinach. (Julie)
Polvo's (2004 South 1st Street, Austin, TX 78704)
Polvo's chilaquiles. © Ryan Schierling
We visited Polvo's for breakfast after hearing some good things, but were a little put off by their chilaquiles. Everything on the plate was swimming in an unappealing light brownish-red liquid. The only thing on the plate that had any tooth to it was the black beans. (Ryan
)
Sazón (1816 South Lamar Blvd., Austin, TX 78704)
Sazon chilaquiles. © Ryan Schierling
Solid chilaquiles with the option for your choice of any menu sauces – including mole. Nicely done. (Ryan
)
Super Burrito (1800 East Oltorf Street, Austin, TX 78741)
Super Burrito chilaquiles. © Ryan Schierling
Disqualified because I'm not sure how these get to be called chilaquiles, but they are pretty tasty. With their store-bought chips, loose refritos and cheddar cheese, I've dubbed these "nachoquiles" – and I totally recommend them. Just don't place your order expecting anything resembling proper chilaquiles. (Julie)
I was more drawn to/repulsed by the prospect of a giant burrito filled with carne asada, french fries, guacamole, pico de gallo and sour cream. I know what I'm getting next time we go to Super Burrito, and it's not the "nachoquiles."
(Ryan)
Takoba (1411 East 7th Street, Austin, TX 78702)
Takoba chilaquiles. © Ryan Schierling
The standard menu offering is rojo. It's a heavy ensemble, spicy red with mas chiles that after a few bites was begging for some sour cream or crema to balance it out. Even making it only part of the way through this plate, I still felt like I needed either a good nap or a long walk afterward. (Julie)
A pretty, simple preparation with some potatoes and grilled onions on the side, Takoba's chilaquiles are a fiery, feisty fast-breaker with various, visible chunks of chiles in the sauce. Almost a little too hot for us on this particular visit. (Ryan)
Tamale House East (1707 East 6th Street, Austin, TX 78702)
Tamale House East chilaquiles. © Ryan Schierling
Tamale House earned themselves a reputation in Austin for delicious, ridiculously cheap breakfast tacos. They are not known the world over for their chilaquiles, and there is a reason for that. (Ryan)
Notable only for the unique addition of styrofoam and floppy french fries. (Julie)
Taquerias Arandinas (700 West William Cannon Drive, Austin, TX 78745)
Taquerias Arandinas chilaquiles. © Ryan Schierling
You have to have a steady hand and a very high tolerance for gloppy cheese to get through a plate of these – red or green. (Julie)
Vazquez Restaurant (915 East Braker Lane, Austin, TX 78753)
Vazquez Restaurant chilaquiles. © Ryan Schierling
A nice, traditional rendition of chilaquiles at Vazquez Restaurant with no fuss, no muss, just the basics. The sauce was spicy enough that a little crema would have been a nice foil. (Ryan)
This was another verde-added ranchero-style sauce with a serious kick. I love spicy, but after a point it starts to weigh on you. Excellent beans. (Julie)
Zocalo Cafe (1110 West Lynn Street, Austin, TX 78703)
Zocalo Cafe chilaquiles. © Ryan Schierling
Ignore the colorful bell pepper and potato ensemble and you've got a pretty tasty, if slightly unconventional, chilaquiles stack served over whole black beans. (Julie)
Bonus chilaquiles:
Señor Moose Cafe (5242 Leary Avenue NW,
Seattle, WA 98107)
Señor Moose Cafe chilaquiles. © Ryan Schierling
Chilaquiles, for us, originated here, at a tidy, tiny little joint in a historically Scandanavian neighborhood in Seattle. They didn't even begin as a Mexican restaurant. It took nine months of the owner missing comida tipica, before Moose Cafe became Señor Moose Cafe, serving cooking straight out of central plateau Mexico's fondas and backroom kitchens. Their chilaquiles are rock solid, and a benchmark that has informed and shaped our opinions of every plate of chilaquiles after. If you're ever in Seattle, stop at the Moose. You will not be disappointed.