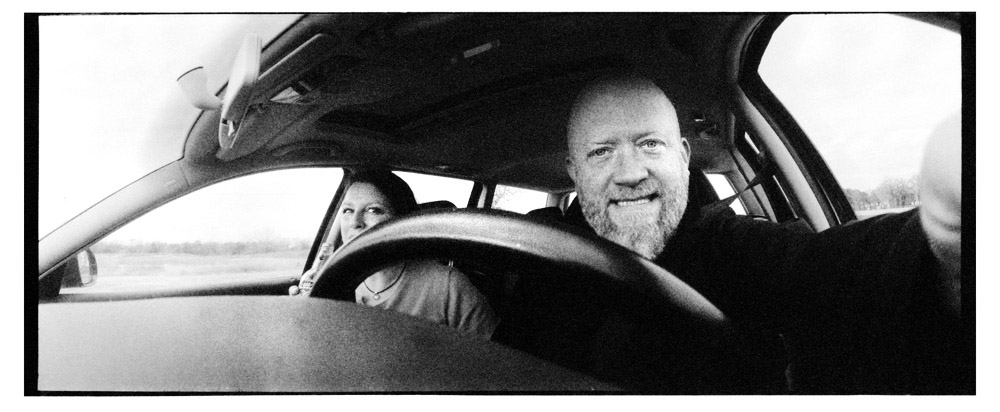 I-10 East, 90+ mph, just out of Houston. Swing-lens panoramic film camera. The flask is in my argyle sock, sucker. (Click for larger.) © Ryan Schierling
I was a teenager the last time I was in New Orleans, insisting on eating nothing but giant bowls of seafood gumbo as our family vacation took us through Louisiana and across the south. I didn't understand the nuances of Creole or Cajun cuisine, or the origins of the dish, and I didn't care. All I wanted was a spicy bowl of something new and exotic – kissed with Louisiana hot sauce – that I couldn't get back home in Kansas. I affectionately remember Marie Laveau's House of Voodoo, the Maison Dupuy's talking bird in the hotel lobby, and window shopping for a Nikon F3HP camera that I couldn't afford on Canal Street.
Somehow, It's been 25 years since I set foot in the Crescent City. Julie's never been.
Now that we're living in Austin, it's an eight-hour drive to New Orleans. There are no longer any excuses. Mardi Gras seems a touch over-indulgent for a proper reintroduction, so I make a few impulsive calls and December 30th we point the car east for a celebration of New Year's Eve.
We stop in Houston for lunch, and while I'm supremely tempted to break for Tex-Mex at Robb Walsh's El Real, I think we need to check out the offerings of the third-largest Vietnamese community in the United States. South of the I-10 a bit, on Bellaire Boulevard across from Hong Kong City Mall, is the Fountain Square Shopping Center. Within one square mile, there are more little Vietnamese restaurants than you could eat at in three days. We hit Nguyen Ngo for banh mi sandwiches, and though the fillings are nice and fresh, it's the baguette that's the stunner. The bread is light and soft in the middle, but with a crust that's crispy and almost wafer-like. We get our order to go and by the time we're back in the car, unwrapping sandwiches, eating, and trying to find our way back to the freeway, there is baguette detritus all over the front seats. Delicious. I am secretly wishing we'd gone through the Lee's Sandwiches drive-through on the way out for a second-opinion set of sandwiches from this strip mall.
As an aside, Houston, we have a problem. Your freeways, and freeway signage, and access roads to freeways, are screwed up. The only benefit of me driving in so many circles trying to get back on the I-10 was passing Bubba's Texas Burger Shack directly underneath the 59 (Southwest Fwy). It looked like the kind of salty, off-the-beaten-track kind of burger joint we'd thoroughly dig. Noted for next time we pass this way.
Eight wrong turns later and littered with bread crumbs, we are back on the road toward Sin City.
We fly through Beaumont, Lafayette and Baton Rouge. As much as I want to stop for boudin and cracklins at a number of gas stations and/or meat markets, our eyes are on the prize. Plus, there's a cooler in the boot for the trip home. We'll hit what we can on the way back.
We roll into New Orleans just after sunset and there is a singular mission – dinner, then hotel. Meal plans are for Rocky and Carlo's, the storied, burned-out and resurrected restaurant way out on West Saint Bernard Highway in Chalmette. As it turns out, Rocky and Carlo's is closed on Sundays and Mondays, and chances of being open on New Year's Day (Tuesday) are slim. I stare at the front of the darkened restaurant, consoling my grumbling stomach, thinking of National Lampoon's Vacation. "Sorry folks, the park's closed. The moose out front should have told ya." We turn around, head west through the still-broken Lower Ninth Ward, and wait for the St. Claude drawbridge to drop so we can pass. I'm reminiscing already. It's never even passed my lips, and I'm missing Rocky and Carlo's roast beef debris and gravy.
(L-R) Bourbon Street. Ray Charles @ HOB. Rubber floor at Aunt Tiki's. Cochon Butcher. Muffaletta. (Click for larger.) © Ryan Schierling
No worry, there's certainly not a shortage of stellar food in this town. A quick search and a 180-degree shift from old-school Chalmette Creole-Italian to... Ethiopian? Cafe Abyssinia was a surprise, and an Ethiopian joint in the middle of Touro? Stunningly good Doro Be-Spinach, and the Veggie Combo (Yamsir Wot, Kik Alicha, Tikel Gomen and Dinicha Alicha) had us wiping the plate clean with injera. As much as I had originally wanted a roast beef po-boy and a plate of veal parmesan with some mac-and-cheese, this is a brilliant dinner, and I am more than satiated. We return to the hotel for some shut-eye.
New Year's Eve morning, we stretch our legs in the French Quarter. As tourist-trap as it is, I want to get beignets and coffee at Cafe Du Monde. Like I said before, it's been 25 years for me, and Julie's never been. The line is nearly two blocks long, so as we pass the other out-of-towners I exaggeratedly roll my eyes and joke way too loudly about how it's played out and it was so much better 25 years ago and they get their chicory coffee from China now. We quickly scurry off to look for an alternate beignet source. It's just a wad of fried dough with some powdered sugar on it, right? There's a line at Cafe Beignet, but it's within the confines of the establishment. We order coffee and beignets, and plan our day.
There is walking involved... a lot of walking. The flask is pulled out. (Engraving: "Not everyone who drinks is a poet. Some of us drink because we're not poets" - Dudley Moore in Arthur.) The St. Charles streetcar line is being refurbished, so anything west of the French Quarter is a little less accessible. We bus it a bit, hoof it a bit, and wander through Lafayette Cemetery No. 1 for hours. Lunch is at Magazine Po-boy and Sandwich Shop and my soft-shell crab po-boy is satisfying, but Julie's eggplant parmesan po-boy is far better. Our afternoon plan is to wander back through the quarter and end up on North Rampart, at Bar Tonique.
(L-R) Zoltar. Preservation Hall. Soft-shell crab po-boy. Garden district. Architecture. (Click for larger.) © Ryan Schierling
Bar Tonique is on the top side of the French Quarter, away from the amateur-hour drunks of Bourbon Street and the daiquiri machines, the shirt-lifting booby-jigglers and the balcony bead-throwers. It is almost five p.m. when we arrive and the sparsely-lit bar has a smattering of patrons tucked into the dark corners of the room. There is a fireplace on either side of the bar that offers a little heat, and the flames dance seductively, throwing shadows on the ceiling. The list of libations is vast and intimidating, but we've already got an entry point. RL Reeves, Jr. has recommended the Frenchman's Dark and Stormy. After that, we are at the kind mercy of Bazil, who is tending the bar.
She works us through a Cannon Barrel and the delicious Vieux Carre. We have Blood and Sand, a pair of Pimm's Cups, and while Julie is in the ladies' room, a shot of herbal Fernet is passed my way, and to one of Bazil's friends, an off-duty barman. It is lifted, tapped once on the ancient dark wood and thrown back with much reverence for what I now believe to be one of the finest drinking establishments in the city. This is the New Orleans I am enjoying now, 25-years later – hanging out in a compact, dark, and proper bar with grown-ups, good music and one of the most impressive beverage menus I've ever seen. After three hours, it's time to head back through the madness, to our hotel for a brief respite before the final countdown to midnight.
Once we're on Bourbon Street, we order a pair of large beers in plastic cups and hold hands tightly, wading into an undulating estuary of the great, unwashed masses.
A pair of stormtroopers cuts through the crowd in the middle of Bourbon Street. I elbow Julie in the ribs, wave my non-beer-holding-hand at them and do my best Alec Guinness Obi-Wan Kenobi. "These are not the drunks you're looking for." They ignore me. They do stop, however, for a thick, staggering husband-wife pair who offer them a full-of-the-force fiver for a photo. Do Stormtroopers have pockets? The Empire seems to be a little more hard-luck than I remember, but times ain't what they used to be.
A man holding aloft a sign that reads "BIG ASS BEERS" is directing folks into a bar that serves, obviously enough, big ass beers. He looks at my 32-ounce plastic cup of Bud Light and shakes his head. "Aww man, look at that little beer. It's so cute. What, are you holding that for your girl?" I lift the cup as a toast to his folly, and down the remaining swill.
(L-R) Magazine St. Local garb. Stormtroopers on Bourbon St. Breakfast. Bicycle blues
. (Click for larger.) © Ryan Schierling
Back at the hotel, we take a deep breath, and make decisions on where we're going to be when the clock strikes twelve. In all honesty, I should be done for the evening. I'm between tipsy and drunk, well into my cups already, and horizontal would be an optimum choice. But, we're in New Orleans on New Year's Eve, with no idea of when we'll return. Reasonable thought doesn't stand a chance, so we head back to the Bourbon Street fracas. It's 11 p.m. and the crowds are thick, sticky and sweet-smelling of hand grenades, hurricanes and daiquiris. A little overwhelmed, we duck out of the fray and check our messages. There's a recommendation for a hole-in-the-wall on Decatur Street. I don't even tell Julie where we're going, I just drag her in the direction of the Mississippi River.
A block away from the 260-year-old Old Ursuline Convent, Aunt Tiki's is a shotgun shack of a bar with a badass jukebox. I order a pair of drinks, put Dead Kennedys "Too Drunk To Fuck" on the player, and head to the... head.
There are three unisex bathroom doors at Aunt Tiki's. It's like the worst game of three card Monty ever… which portal to choose? I select door number three, turning the knob and pulling ever so gently to peek in, just in case it's occupado. A pantsless young man, followed by a pantsless young woman, tumble into my arms. I catch the man by the armpits and hoist him back up toward his lady. She pulls him back to the loo by his collar, and before slamming the door shut, leaves me with "OH MY GOD. I'M SO SORRY. PLEASE WASH YOUR HANDS." I step to door number two, and tentatively open it. There are no locks on the doors. There is no one inside. I wash my hands so very, very thoroughly and stare at myself in the mirror. Am I ready for 2013? It's three minutes to midnight.
Noisemakers are passed about Aunt Tiki's and fireworks explode outside. There are hugs and kisses between lovers, friends, acquaintances, and complete strangers. It's a new year in New Orleans, and we are in it.
-----
If you're not able to visit Louisiana anytime soon, here is a proper recipe for gumbo. It is not mine, but from a writer I admire deeply – Lolis Eric Elie. It is his mother's rendition, from a piece he did for Smithsonian.com this year. Elie's 1996 book Smokestack Lightning: Adventures In The Heart Of Barbecue Country (with photographer Frank Stewart), is one of the best road-trip tales of barbecue in print and I am proud to have a slightly dog-eared first-edition hardcopy of it.
My adaptation of this seafood gumbo omits the filé powder, and includes a pound of diced tomatoes and a quarter-cup of woozy for acidity. Served over rice, it is a fond and warming distillation of all my New Orleans food memories, 25 years to the present.
Seafood gumbo with crab, shrimp and sausage. © Ryan Schierling