Chicken-fried steak and eggs at Jimmy's Egg. © Ryan Schierling
We do not eat poorly. Truly.
But when we're on the road, any and all respectable regimens of normal dietary discipline go out the window at 75-miles per hour, sometimes even
before
we leave Austin proper. I'd like to think that I can blame it on genetics – mom always packed boxes of Cheez-Its for vacations, and dad had to make pit-stops for Dr Pepper and peanuts – but the truth is, the road is kind of like the bottle. "It don't make you do a thing
, it just lets you."*
Wichita, Kansas is 543 miles from Austin, Texas. There are a number of other, perhaps more desirable destinations within that 543-mile radius. Tampico, Chihuahua and Ciudad Juarez in Mexico. New Orleans, Louisiana. Mobile, Alabama. Jackson, Mississippi. Las Cruces, New Mexico. Certainly these are all more favorable locales than the largest city in Kansas? Perhaps. Depends on your history, and what your motivations are. We are headed to Wichita.
It's a long, due north haul, so we hit the road after work Saturday evening. We get as far as Arlington, Texas and decide to stop for the night. There's an In-N-Out here, and according to believers, that's road food of the highest order when it comes to fast food. It qualifies first by being a novelty in Texas - there are a mere 16 locations as of this writing. When we first visited in December of 2011, there were three. It also qualifies by simply being a solid hamburger. But we're more tired than hungry. We pick up a bottle of red and a cherry pie and stop for the night.
The next morning, we exit the top of Texas and traverse Oklahoma's Arbuckle Wilderness. Stomachs rumbling, we jump off the highway in Ardmore and stop at Jimmy's Egg. For a chain of breakfast joints, this is a pretty decent one. My road breakfast requisite chicken-fried steak and eggs is very nicely done, certainly warranting a TGICFS insert. It's been a while.
Disclaimer: I don't get to eat chicken-fried steak and eggs that often anymore. There just aren't many places in Austin that serve CFS for breakfast, and the ones that do mostly serve up anemic, pre-breaded and frozen Sysco meat that's dumped unceremoniously into a deep fryer. So w
hen we hit the road, I'm always looking for the next breakfast stop, where – fingers crossed – chicken fried steak and eggs is featured on the menu. Now, here's your TGICFS haiku...
Cracker-crusted bed
a pillowy cream blanket
Still time for more sleep.
But it's not all road food and poesy.
The Toy and Action Figure Museum in Pauls Valley, Oklahoma is action figure nerd paradise. We've driven through Pauls Valley many times, knowing we should stop and check out this shrine. I worked at Toys R Us in the early 1990s, and collecting action figures was just something most of the managers, the assistant managers, the employees did. I was there when Playmates released their Star Trek: Next Generation figures. I was there for Starting Lineup's first Magic Johnson and Michael Jordan figures. Toy Biz busted out X-Men figures right about then, and Todd McFarlane's Spawn series was redefining action figure sculpts with highly-detailed molds.
Nerds. © Ryan Schierling
I
don't have a collection anymore, really, just all of McFarlane's Detroit Red Wings and a single, solitary Playmates Captain Picard that I kept mint-on-card, from 1992.
Engage
. I geek out in other ways now, but still appreciate an impressively-massive collection of action figures. Curiosity satisfied, we're back on the road.

Once we hit the Oklahoma-Kansas border, it's a short jaunt of tollway to Wichita. When we enter the city limits, there are addresses, and directions, and restaurants punched into the iPhone. Kirby's Beer Store, where Seattle band Gibraltar are playing, is the final destination. But we're hungry again, and looking for a little old-school Wichita.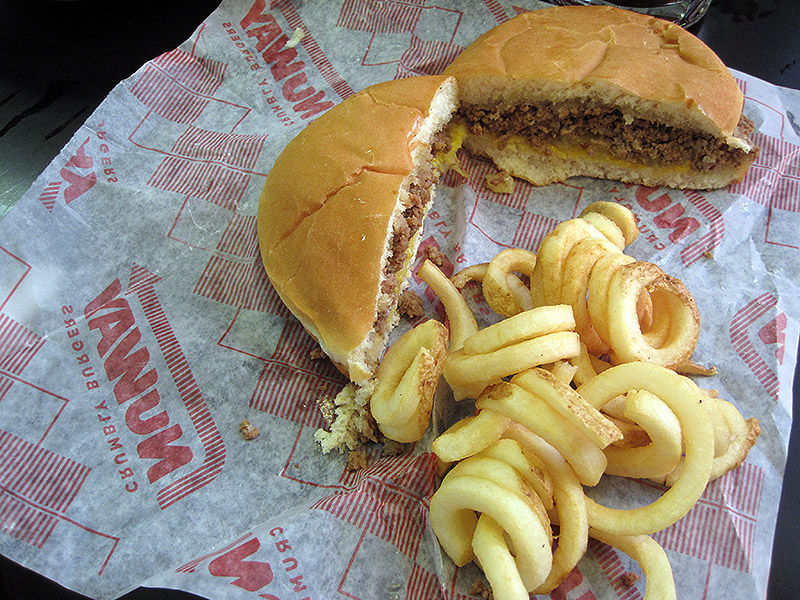 Nu-Way loose meat burger and fries. © Ryan Schierling
For a burger of a different sort, we have to check out Nu-Way. I have no history with loose meat sandwiches other than a single, brilliant visit to Maid-Rite in Quincy, Illinois, but Wichita affords us the opportunity to make acquaintances once again. Also known as a "tavern sandwich," loose meat burgers are sort of akin to a sloppy joe, without the sauce. They've survived in the midwest since the 1920s, and in my opinion, are at their simple best with just mustard, onion and pickle. Nu-Way Cafe, a Wichita staple for more than 80 years, also makes their own root beer, which is phenomenal.
There is also Jack's Coffee Shop, which is actually a little misleading.
There is no Jack. There is no coffee. There is no sign. For 50 years there have only been hamburgers and cheeseburgers, and that's it. You can have a plate of grilled onions if you like, and pickles are available. Mustard and ketchup are on the tables, they'll pour you a bowl full of potato chips, but you'll get nothing else. No fries. No shakes. The hamburger patties are large, thick, and cooked a nice medium. It's well worth the stop if you can find them, and find them open – which is 11 am to 2 pm, Monday through Saturday.
(L) Paul Kroeker, Kirby's bartender extraordinaire. (R) Jack's Coffee Shop. © Ryan Schierling
Now, Kirby's Beer Store, I have history with. Two summer tours with Seattle's Spanish For 100 introduced me to Kirby's. It's a tiny little watering hole, just off the edge of the Wichita State campus. Situated next to a laundrette, it's a 41-year-old dirtbag of a bar in the best possible way you can imagine. Playboy Magazine called it one of America's best dive bars back in 2010, and Paul Kroeker's been backing the bar a long, long time. The beer selection, given the size of the bar, is superb and we start with offerings from an old favorite (unavailable in Texas) – Fort Collins, Colorado's Odell Brewing Company.
The mid-day drunks shuffle out, we sit at the bar and take in the 40-years of nicotine-stained concert posters, band promos and stickers that cover all four walls and the ceiling of Kirby's.
Paul keeps us beered-up as we wait for Aaron Starkey's band Gibraltar to pull into the parking lot. When we planned this trip, we kept it a secret. I told Starkey that, as much as we'd love to see his new band, there was no way we were driving all the way from Austin to their southernmost tour stop, Wichita. Too far, too much gas money. So when he walks into Kirby's, scans the bar from right to left and then stutters visually on a balded, bearded, slightly-inebriated Austinite and his beautiful red-headed lady, it is an unexpected Sunday night surprise. They play a rowdy, raucous set to a packed and appreciative room, but I like to think that they give a little bit extra for us.
Gibraltar. © Ryan Schierling
Monday morning, we have coffee, and head south back through the OK.
When we hit Oklahoma City, text messages are exchanged with Steven English, a former Austinite who knows where to find the good stuff. He directs us to Big Truck Tacos. We eat the Wojo, the Guardian, and the Oklahoma-appropriate Flaming Lips (with hickory-smoked lengua). Everything is delicous, and the variety of tasty handmade salsas is staggering. We continue south toward Texas.
The Wojo. © Julie Munroe
Five miles of country roads off the beaten path of I-35, in Marietta, Oklahoma, there is a small restaurant overlooking the Red River. While McGehee's Catfish Restaurant (and Airport) is open all day on weekends, they are only open for a few hours each weekday evening, and we are lucky enough to make that window.
We sit down at a table that has a view of the river valley, and the waitress approaches our table.
"What can I get you to drink?"
"Iced tea, please," we both replied.
Long pause.
"...And catfish?" she asked.
J and I slowly look at each other and say "Uhm...yes, please?"
We are offered no menus, don't know if there are menus, don't even know what this catfish will set us back or what it comes with. We are at the mercy of McGehee's to be kind and generous with their seemingly singular expertise – we are ordering Oklahoma omakase.
Catfish at McGehee's Catfish Restaurant and Airport. © Ryan Schierling
We are given iced tea 30 seconds later. Not a minute passed after the drinks arrive, cole slaw, bread-and-butter-pickled green tomatoes and the most transcendent caramelized onion-filled hush puppies I've ever eaten came to the table. Two minutes after that, a platter piled high with cornmeal-crusted catfish and fresh-cut french fries is placed in front of us.
It is easily the most glorious divinity that bottom-feeding fresh farm-raised fish could ever hope to attain.
The road back to Austin is long, but it has been a good, full road trip.
*Drive-By Truckers