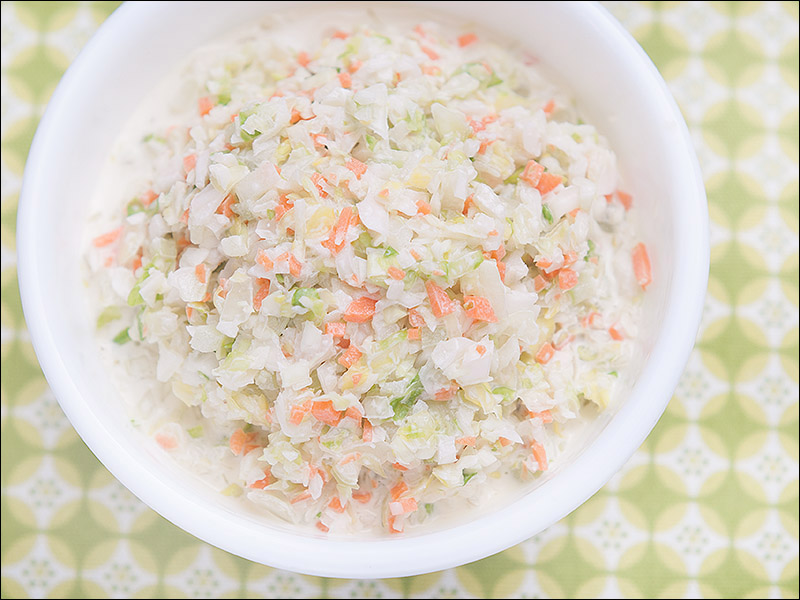 Garlic salad. © Ryan Schierling
We punish ourselves once a year or so, pushing out five posts in five days, all related to this or that. Last year it was cucumber salads. The year prior, potato salads and a good five days of grilling.
This summer, we're all about the slaw, so we're going to give you five before the 4th of July.
There is a gold standard for All-American picnic coleslaw, and it is Kentucky Fried Chicken. As much as I hate to say it, and as much as you might disagree, it is the truth. Name a chain restaurant that has more than 18,000 units and sells as much coleslaw as the Colonel. KFC itself calls it "The World's Best Coleslaw," says that it's "freshly prepared in store" and "sets the coleslaw standard by which all other coleslaws should be measured." My friend Gary worked at Kentucky Fried Chicken in the late 80s, and he tells me that while they made scratch biscuits back then, the chickens were disassembled and breaded on-site and the gravy was homemade – the only thing that was NOT freshly-prepared in store was the coleslaw. It came in bags. It still does, from what I hear.
Big bags of chopped cabbage, carrots, and onions. The sauce – according to the corporate website – is a mix of sugar, soybean oil, vinegar, salt, eggs, corn starch, mustard flour, xanthan gum, the ever-popular natural and artificial flavor, paprika extractives, paprika, and caramel color. Sugar is the first ingredient, and the last time I sampled it (for research reasons, of course) it was so sweet it could have been some weird cabbage dessert.
I do appreciate it for the role it plays in KFC's menu, which is as a foil to the crunchy, salty chicken. I do have a soft spot for all coleslaw varietals, and I like that the KFC extremely-fine chop of the cabbage, carrot and onion isn't something you get with most coleslaws. If you've ever seen the term "mechanically-separated" on a chicken, pork or beef product, you can only imagine what a Robot Coupe the size of a grain silo with a few million cutting blades would do to truckloads of cabbages, carrots and onions. I'm speculating here, but only in a way that imagines there are no human hands actually involved in the preparation of this product. It's made by coleslaw robots.
I need a coleslaw robot…
If you want to make Kentucky Fried Chicken coleslaw, there are recipes all over the internet. At the top of the list, you'll find the
Top Secret Recipes
cookbook version, which is pretty spot on (though sub tarragon vinegar for white). Here, I'm making a similar salad with a
supremely
finely-chopped cabbage, carrot and celery (instead of onion), but I'm swapping the sweet sauce for something completely different. Our trip to Wichita last month
changed
me. More specifically, our trip to Nu-Way for
loose meat sandwiches
changed me. Their garlic salad was an eye opener, and led me to do a little research on the origins of this
very
regional variation of coleslaw. Doc's Steakhouse, opened by Dr. Dwight L. Hustead and a Wichita institution since 1952, kept popping up. Their version is a closely-guarded secret. Nu-Way, who also serves a very
fine
garlic salad, is enough of a
teeny-little
microcosm in the fast-food industry that information is few and far between on their version.
So my take is a little bit of fact, a little bit of fresh, a little bit of back to the basics. Everyone keeps calling for garlic powder, garlic salt, garlic extract or juice? How about fresh garlic, bashed to a paste in a mortar and pestle with a few good pinches of kosher salt? We tried a version with garlic powder and garlic salt mixed into the mayo and the whole salad stunk up the house like you wouldn't believe. Just use fresh garlic and save yourself the overwhelming olfactory offense. No offense, Wichita. We love you.
Garlic salad
6 large garlic cloves, minced
2 tablespoons kosher salt
8 ounces real mayonnaise
Beat the hell out of the garlic and salt in a mortar and pestle, or using the flat side of a knife to mash them together on a cutting board, over and over until a thick paste has formed. Mix the garlic paste with mayonnaise.
2 carrots
2 celery stalks
1/2 head of green cabbage
1/2 head of iceberg lettuce
Peel the carrots. Remove any discolored outer leaves from cabbage and lettuce. You can use the slicing blade on a food processor to get where you need to go for the texture of this salad. I prefer to hand chop, just for consistency's sake. It makes for a lot of cutting board time, but I think the overall result is more consistent and less "pulpy" than running it all through a food processor. That said, chop fine the carrots, celery, cabbage and lettuce. Put everything except the lettuce into a large bowl and sprinkle with a bit of kosher salt. Let sit for 15 minutes. Stir in the garlic mayonnaise, cover and let rest the refrigerator for a few hours. Before serving, mix the iceberg lettuce in well. Add salt to taste and dish it up.
After-dinner mints are so very appropriate here.