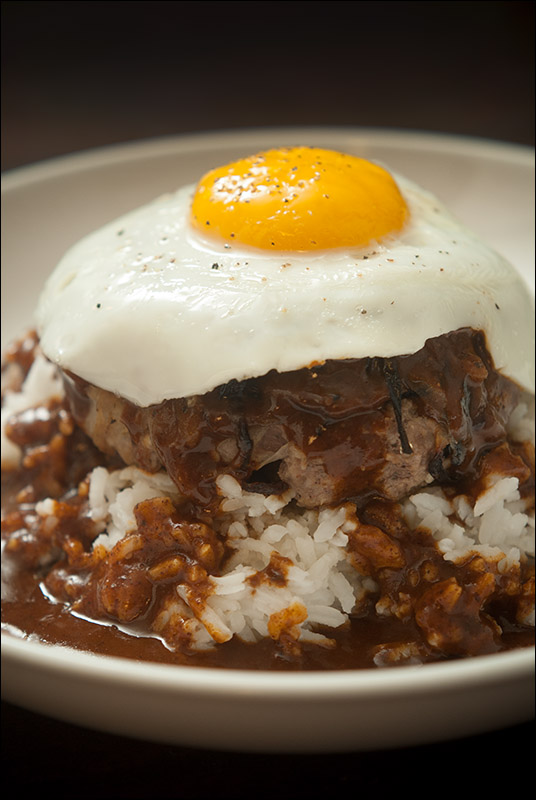 Tex-Mex meets broke da mout'. © Ryan Schierling
It's been just long enough that I'm starting to yearn for a little island time again.
There were only a few places on our must-eat list when Julie and I first visited Oahu. We had to get malasadas at Leonard's on Kapahulu, try shaved ice at Matsumoto's Shave Ice in Hale'iwa. There would be poke at Tamashiro Market, shrimp trucks on the North Shore, and a stop for plate lunch at Rainbow Drive-In. A bit touristy, as all first visits are, but a good introduction to some solid Hawaiian culinary building blocks.
At Rainbow Drive-In, the plate lunch of mahi mahi, steamed white rice and that wonderfully-simple, mayonaisse-drenched macaroni salad, was nicely satisfying, but I couldn't leave without trying the loco moco. The crazy wha….? Isn't "moco" Spanish for "snot?"
One scoop rice, one hamburger patty, one over-easy egg, smothered in brown gravy and served in a bowl for three bucks. It was brilliant.
Now, like any other fabled regional dish with a long history steeped in island culture, stories vary about the origins of the loco moco.
Some
say it was a guy on the Lincoln Wreckers barefoot football team nicknamed "Crazy" that asked for the combination at Hilo's
Lincoln Grill
in 1949.
Others say Lincoln Grill owners Nancy and Richard Inouye put the dish together for the hungry (and usually broke) Wreckers players and only charged them 25 cents.
They
say when Nancy wrote it up on the butcher paper menu, she asked husband Richard what it should be named.
"The kids are crazy. Call it a loco moco."
There are variations – Spam, teriaki beef or chicken, mahi-mahi, wieners, chili, ham steak, bacon – but for me, none compares to the original with a hamburger patty.
R
ecipes for loco moco number in the, oh... hundreds of thousands, and the gravies differ
widely
. Since I couldn't find anything that resembled a true
historic
version of the gravy for this dish, I just scrapped any and all reverence and decided on Tex-Mex
chili gravy
. I also added chopped serrano to the ground chuck and some griddled Texas 1015 sweet onions on top of the burger patty. Just be happy I didn't
Spanish-up
the rice. So, I guess what you've got here is a...
Tex-Mex Loco Moco
4 cups cooked white rice
4 1/4-pound hamburger patties, seasoned and cooked however you like
2 serrano peppers, chopped fine
1/2 sweet onion (Maui or Texas 1015), sliced very thin and griddled until soft with a few crispy bits here and there
2 cups chili gravy
4 eggs, cooked sunny-side-up or over easy
Rice
It's rice. Make it. Add a little salt or some chicken stock to the water. It's rice. Put one cup of cooked rice into a bowl.
Hamburger
Work the chopped serrano (with seeds and membranes) into 1 pound of 80/20 ground chuck. Divide the ground beef into four pieces and form them into thick patties about 5 inches across. Season the hamburgers with salt and pepper and grill them however you like. I go for medium. We griddled them on rippin'-hot cast iron this time, and I softened a good handful of thinly-sliced sweet onion under each patty when they were almost done. Put the hamburger on top of the rice. Put some of the onions on top of the burger patty.
Chili gravy (adapted from The Tex-Mex Cookbook by Robb Walsh)
1/4 cup vegetable oil
1/4 cup all-purpose flour
2 tablespoons chili powder
2 teaspoons cumin
1 tablespoon agave nectar
1 teaspoon powdered garlic
1/2 teaspoon black pepper
1/2 teaspoon Mexican oregano
2 cups chicken broth (beef broth can also be used)
salt to taste (depends on how salty your broth is)
Heat the oil in a skillet over medium-high heat. Add the flour and whisk continuously until a light brown roux is achieved, about 3-4 minutes. Do not burn your roux. Add the chili powder, cumin, powdered garlic, salt, pepper and Mexican oregano, and continue to whisk for another minute. Add chicken stock, whisking until everything is incorporated and the gravy begins to thicken. Add agave. Turn the heat to low and let the sauce simmer for 15 minutes. Add more broth or water to adjust the thickness. Makes 2 cups. Pour 1/2 cup gravy over the burger and rice.
Egg
Sunny-side up if you've got the heuvos for it. Place the egg on top of everything in the bowl, season with salt and pepper, then take a food photo and text it to your cardiologist.
Serves 4
Note: The actual timing of this recipe is not as written, which is bottom of the loco moco bowl to the top). Start your rice and gravy at the same time. When both are nearly done, cook the hamburger patties. When you flip the burgers, start the fried eggs.