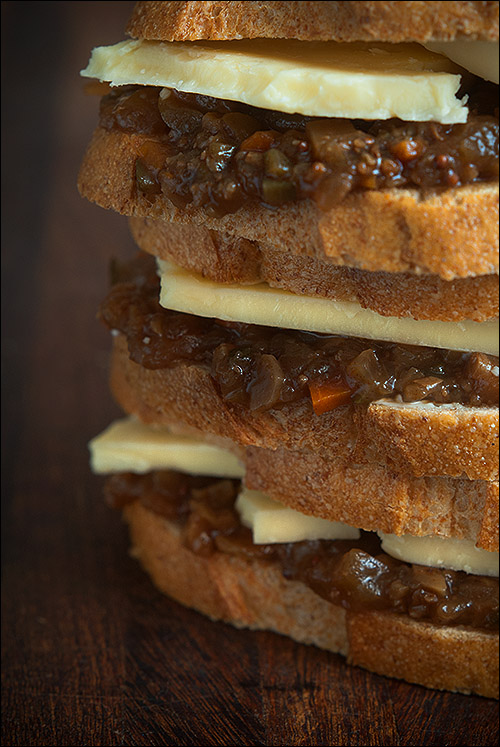 Homemade ploughman's pickle with English cheddar. ©Ryan Schierling
I cannot claim to have invented this sandwich, nor would I. It is a simple cheese sandwich with a legendary dark-brown English chutney-style spread that is bracingly tangy, crunchy, sweet, and a twee bit savory at the same time. If you're across the pond, it is a sin to eat a cheese sandwich without Branston® pickle.
I am not an Anglophile and I'm not across the pond, but I have been eating pickle and cheese sandwiches for a while now. I came by a jar of Branston® at a shop in Seattle in the late 90s, picked it up out of curiosity – one for me and one as a gift – and have been preaching the gospel of ploughman's lunch ever since.
But I never, ever, ever thought to try and make pickle. It's like making ketchup, or catsup, or whatever. It's like making butter. It's like making mayonnaise or mustard. So few hand-make the staples anymore, they just buy them at the grocer.
This tart, sweet,
"what-the-hell-should-I-do-with-this-mess?"
condiment is not for everyone, but the Branston® traditional recipe has been the same for more than 90 years, and pickle fans are legion in the UK. It may be an acquired taste, though I also believe it's a very geographically-defined and refined taste.
It was 2004, and the Brighton, England-based band Clearlake were in Seattle to play at The Crocodile. I was there early to take photographs of the band – who were supporting their new release Cedars – and to grab a bite to eat before the show later that evening.
At that time, The Crocodile had a formidable kitchen.
The group was sitting at a table after their manager had rounded everyone up to get them fed before soundcheck. He was asking each what they'd like. Jason Pegg, singer and one of the band's two guitar players, requested a sandwich. The manager asked "What kind of sandwich?" Pegg replied "I don't know, maybe just cheese with some pickle." The manager cocked his head a little to the side and laid out the difference between "pickle" and "
pickle
" when you're in the states.
"You're going to get a cheese sandwich with some kind of… some kind of…
cucumber
."
The look on his face when he said "cucumber" was with, if not disgust, surely with disdain. I smiled.
Clearlake, 2004 at The Crocodile in Seattle, Washington. © Ryan Schierling
Eventually, I introduced Branston® pickle to Julie, and she dug it even more than I did. It's been in our refrigerator ever since.
When we were trying to figure out the last of our sandwich recipes for this "five days, five ways," she suggested cheese and pickle, proper. I instantly balked. That's like, uhm... posting instructions for cheese and condiment sandwiches. If we're going to put a recipe out there for cheese and pickle sandwich, we're bloody well going to have to make the pickle. And so, crazy enough, we did. If you enjoy ploughman's pickle, try this out. Our version is not quite as sweet, and a little less intense with vinegar. It's slightly more subtle, if you could believe that as even possible in an American version of anything adapted from another country, but we like it a lot. If you have no idea what pickle tastes like, buy a jar of Branston® and enjoy the classic. Then make our version and let us know what you think.
Homemade Branston®-style pickle
(adapted from Canadian Living)
4 cups peeled rutabaga, diced (450 grams)
3 cups minced cauliflower (475 grams)
3 carrots, peeled and diced (150 grams)
1 16-ounce jar pearl (cocktail) onions, drained and finely chopped
2 cups finely-diced zucchini, skin on (225 grams)
1 Granny Smith apple (100 grams), cored, chopped with skins (and pureed with 1/2 cup malt vinegar - see below)
2 to 2 1/2 ounces dried apples, finely chopped (60-65 grams)
1 cup finely-chopped dates (150 grams)
15-16 sweet gherkins, finely diced (150 grams)
6 cloves garlic, minced
1 cup packed dark brown sugar
2 + 1/2 cups malt vinegar (1/2 cup for pureeing chopped apple)
2 + 1/2 cups water (1/2 cup for incorporating corn starch)
1/3 cup lemon juice
1/4 cup Worcestershire sauce
2 tablespoons tomato paste
2 teaspoons kosher salt
2 teaspoons dark brown mustard seeds
2 teaspoons ground allspice
1/2 teaspoon cayenne pepper
2 tablespoons corn starch
4 teaspoons browning sauce (Kitchen Bouquet)
In a medium-sized stockpot over medium heat, combine rutabaga, cauliflower, carrots, onions, zucchini, dried apples, dates, gherkins, garlic and sugar. Mix well. Add the apple/vinegar slurry, 2 cups vinegar, 2 cups water, lemon juice, Worcestershire, tomato paste, salt, mustard seeds, allspice and cayenne. Bring to a boil. Reduce heat and simmer, stirring occasionally, until the rutabaga is just tender, and the liquid has reduced a bit. Add browning sauce.
Mix the corn starch with the additional 1/2 cup of water. Stir into the vegetable mixture and bring to a boil again, for about a minute. The remaining liquid in the pickle will begin to thicken.
Spoon into clean, sterilized pint jars, seal and water bath process for 15 minutes. Once cool, let the jars of pickle sit for three weeks before using, to let the flavors meld.
Makes 7 pints.
The pickle process. © Ryan Schierling
Pickle and cheese sandwich
Use a nice, hearty country bread. Though a spread of butter is traditional, we use a bit of mayonnaise as the first layer on both pieces of bread. After the mayo or butter, spoon on a good layer of pickle and top with thick slices of aged English cheddar. Enjoy.