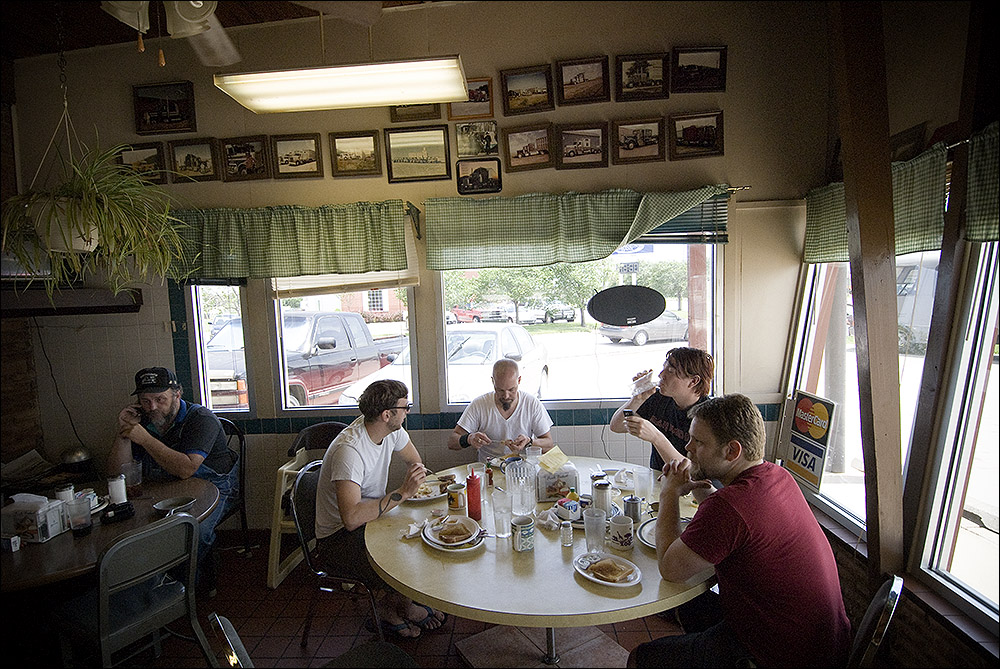 Seattle band Spanish For 100 at S&S Cafe – Emporia, Kansas. © Ryan Schierling
"It was somewhere near The Crazy Mountains in Montana – day 17 – when I began to lose my mind. The air conditioner had just given up the ghost after 14 straight hours driving out of Denver and the early July temperatures were climbing. I was moist, sticking to my clothes and my clothes were attached to a red fold-out bench seat. I had dim memories of seeing the sun coming up, but that could have been one of at least five other sleepless nights on this summer tour.
Polaroid pictures secured to an overhead rail with strips of duct tape swung back and forth beneath the blue and brown headliner. A pink stuffed ape wearing a mortarboard sat across from me in the captain's chair, the butt of a yellow flashlight unceremoniously shoved into a break in the stitching in it's ass. Where was the Uriah Heep that had kept us going for so long? Everyone was silent, a little lost and glassy-eyed, moving in slow motion. The energy drinks for shift-driving were gone. The ice was melted.
I tried in vain to think of some type of candy that has a crunchy exterior and a chewy center. That's what Horchata, the Spanish For 100 bus, had become – crusty on the outside and moist and tender in the middle. We were bad nougat that was quickly heading south, churning west over mountain passes at 47 miles per hour. I couldn't think of the damn candy."
In 2007 and 2008, I documented two consecutive summer tours for the Seattle band Spanish For 100.
There was no money in it. My lungs had suffered innumerable cigarettes, my liver endured endless drinks, my tender tympanic membranes were terminally torched by tinnitus. I loved the music, but showing up hours before a set and battling crowds was becoming more and more exhausting. I found myself having to justify access to bands, or labels, or explaining myself to door security when I showed up with a fat black bag of camera gear, even though I had a photo pass from the band, or the label, or a magazine.
And so, after five years – as much as I loved and had ties to burgeoning Seattle indie rock – I took one giant step away from the scene. In 2007, I was contacted by local band Spanish For 100 to shoot some promotional photos. I'd never met them, didn't know what they sounded like, and had no idea what they were looking to get out of their promo shots. We met, talked about it, and a few months later, scheduled two shoots.
After the second set of images, as we were all leaving, lead-guitar player Aaron Starkey said "Hey, you know what... you should come on tour with us and shoot photos." I couldn't tell if he was joking, as everyone else had chuckled, so I didn't think too much more about it. A few weeks later, I decided to give Aaron a call. I mentioned that I had some down time right around their summer tour schedule, and if they wanted me to come along and document the whole "tour experience," I could.
Three years and two summer tours later, I've spent more than six weeks on the road with Spanish For 100. They are my favorite Seattle band, and they are also great friends.
(L) Corey Passons. (R) Aaron Starkey. © Ryan Schierling
In 2014, Aaron, Chris, Corey and Ross played their final show at The High Dive in Seattle. Julie and I were living in Austin. I was unable to attend, due to poor planning and life just getting in the way. I sat in front of my computer that night, drinking beer, playing their entire catalog, crying. I should have been there.
In early 2015, I got an email from Aaron saying there would be one more show. One more, final show for The High Dive's 10th Anniversary. I booked a flight with ridiculous departure and arrival times over a day-and-a-half, and prepared for a whirlwind 36 hours in Seattle. I packed a messenger bag with a pair of underwear, a pocket camera, and five copies of the 2009 tour "magazine" I'd made from the imagery from two years prior. The music, and these magazines, were all I had left of that experience.
Seattle is, and has been, in a constant state of tear-down and build-up. It's one of the reasons we left five years ago.
I don't want to make this a grumpy-old-man story about "how Seattle used to be," but so many of the things Julie and I loved were – and still are – being destroyed for the sake of new money and now housing the people that make and spend the new money. I suppose this is happening everywhere, just in varying stages. Progress is sometimes a hurtful, heartless bastard and while I'm happy for my old-hometown memories, this visit just feels like a trip to a theme park where everything authentic is gone but has been almost exactly replicated for new Seattleites and their flush accounts. Visit Old Scandinavian Ballard-Land, and Uff-da, bro! Visit Capitol Hill-Ville, where alternative used to mean it! Visit Fremont-Land/Wallingford-World, which may as well be old-Belltown-Town!
The only reasonable thing to do is try to find the food that fed all of my great Seattle memories.
My plan of action once I land is to head to Pike Place Market at have a snack at favorite Piroshki Piroshki, but there is a line around the block. As much as I love standing in line for food – hashtag Austin – and want a carrot and sauerkraut piroshki, the clock is ticking and standing on queue isn't part of this trip. I am happily surprised to find a tiny Zaina outpost tucked into a nook between 1st and 2nd on Pike. Julie first introduced me to the spicy falafel sandwich at Zaina, and I've yet to find its equal. While they've had a few location changes over the years, the sandwich remains the same wondrous, messy handful I remember from all those years ago, filled with fresh falafel, hummus, loved-up with tomato, onion and an obscene amount of parsley, which helps temper the chile sauce a bit. It is the food you eat too much of, even when you're full, because you don't want the taste to stop.
Zaina's spicy falafel sandwich. © Ryan Schierling
I wander back to the market to make a visual and olfactory run-through, and instincts kick in. There is an art to navigating through tourist throngs who shuffle their feet, halt unexpectedly, and while so excited to be taking in the native scenery around them, are completely oblivious to the natives. I zig-zag, slide, do a little dance, speed up and slow down, and I've transited from one end to the other in no time. The sights and smells are invigorating, encouraging, and wonderfully familiar. When so many things in Seattle are changing, Pike Place Market is a constant. I wish there were an Austin equivalent. I stop for a few beers at the new Elysian Bar then head for Westlake Center where I can catch the monorail over to the old LQA (Lower Queen Anne).
The wonderful Thai restaurant that was across the street from our place is vacant, slated for demolition and imminent condominiums. Ghetto Melrose – our old courtyard set of flats – is still standing, but not for long. There is a land-use permit placard plastered on the place, and the entire block one street up is now a looming mass of uninspired housing up/retail down design. The old QFC grocer is a massive condo complex. Easy Street Records is a Chase Bank. The Kidd Valley burger joint is demolished, chain-link-fenced with a backhoe defiantly parked in the middle of the broken lot. I wander over to Floyd's BBQ and Brew to sit down and have a beverage, but there's brown paper covering the windows, with a small, handwritten sign that reads "CONDOS ARE COMING." Bloody hell.
Dick's Drive-In is, of course, still there.
(Top) Dick's Deluxe. (Bottom) Saab 900, LQA Dick's Drive-In. © Ryan Schierling
Dick's is an institution. Not like a religious organization or medical care facility kind of institution, though it could be argued that eating Dick's is historical practice or custom, and in that regard I'd hold the ritual in higher regard than the institution of marriage. Sir Mixalot touted the establishment in his song Posse on Broadway.
"Dick's is the place where the crew hang out / the SWASS like to play, and the rich flaunt clout / posse to the burger stand, so big we walk in twos / we're gettin' dirty looks, from those other sucka crews."
The simple menu has only four burgers, fresh-cut fries, shakes and sodas and until I lived in Seattle, the phrase "go eat a bag of dicks" might have offended. No sir, I will gladly do so.
I'm not really that hungry, but you don't have to be when nostalgia kicks in. I order a Dick's Deluxe, fries with two tartar sauce, two ketchup, and a small root beer. It's a tiny culinary time machine that takes me back a few years to the good times, that were actually marginal times, but when you get older everything is rosé tinted. A teenaged cashier shouts "change twenty!" before holding the bill up to the flourescent lights and then shoving it in the cash drawer. The crowd looks the same, and there's a homeless guy sitting outside the south doors, same as it ever was. I move on down the street and around the corner, hoping that there's still at least one shithole bar in the LQA. Mecca Cafe is always there, but I'm feeling like I want something a little less "tattooed bartender that's a lot cooler than you," and a little more "give the old man his beer and know well enough to let him alone."
Streamliner Tavern was a stagger-in, crawl-out or be carried-out bar serving, and over-serving, Lower Queen Anne neighborhood drunks for a good long time. They, and the Radio Shack next door, have shuttered and moved elsewhere, but Ozzie's still maintains a solid corner space on 1st Avenue North and West Mercer, and the lush life carries on. I stop in to get out of the rain, which is how it always begins, and nothing's changed save the faces. I take a bar stool, mid-afternoon, and it's not long before a pair of regulars sit down beside me. Ryan, the bartender, knows who they are and knows their drinks. He also knows the pull-tab games they fancy, and pretty soon they're shucking losing pull-tab tickets into a plastic burger basket like bad oysters. I order IPA after IPA, and wait for the rain to stop. There's my mistake. After five sunny years in Austin, I'd forgotten the Seattle rain never stops. Almost mostly drunk, I finally hear from friend William Anthony who is also a Seattle expat, now living in Portland. He has driven up for the Spanish For 100 show and just hit the city limits. He suggests driving over to Pacific Inn, and we both hope that it's still there.
Pacific Inn has been, in my opinion, the best honest fish and chips in Seattle for a long time. They've bulldozed and built up the block across the street with shiny and fancy, but the P-I (not to be confused with the shuttered Seattle Post-Intelligencer) keeps keepin' on with dive-bar worn-out booths, an old-world, old-wood bar and bartenders serving stiff-ass drinks. I don't know how long it will remain, given the ongoing development in the rest of Fremont-Land/Wallingford-World, but if you're in the neighborhood, please visit. The fish is well-seasoned, perfectly-breaded and the handmade chips are crisp and salty. Tartar sauce is provided, but all you really need is the at-hand bottle of malt vinegar and another beer.
Fish and chips at Pacific Inn. © Ryan Schierling
Spanish For 100 are playing at The High Dive, a deep room with great sound and a long, long bar. The house is packed, and as much as I want to shoot photos, I didn't bring gear and that's not what I'm here for. I stand and soak the performance in. I've seen these gentlemen play these songs so many times, in so many places across the United States – for no one but me and a bartender, or for a room so packed I couldn't move. It's an amazing show, as it always is, as it always was, and I'm thankful to be here for it. I have Aaron, C

hris, Corey and Ross

sign all the magazines I brought, give them each one and keep a copy for myself. We talk in the rain for a while after the show, and soon it's time to sleep for at least a few hours.
My bald-ass head and Spanish For 100 rocking The High Dive. © William Anthony
In the far-too-early AM, there's only one breakfast option for me. On this trip, it should come as no surprise – I have come full circle with chilaquiles.
Ballard's Señor Moose Cafe has the portent distinction of serving me my very first plate of sauced-up totopos and huevos. What the hell does long-way-from-Mexico Seattle, Washington know about chilaquiles? Not much overall, really, but Kathleen Anderson's plate is my gold standard, born of the cooking of central-plateau Mexico's
fondas
. What the hell do I know about chilaquiles? A little, all written as a fat post-script flourish to that wonderful, inaugural breakfast. The Moose is to blame for our pursuit of 100 different plates of chilaquiles in Austin and we're currently at 80-plus. The chilaquiles verdes are exactly what they were so many years ago, which speaks to the Moose's authenticity and consistency. These are chilaquiles you'd push someone in front of a bus for, and if I were Harry and I'd just lifted Monk's wallet like Bukowski wrote in Septuagenarian Stew, the bar would be Señor Moose and I'd have the cook keep coming with the chilaquiles and coffee instead of a porterhouse with fries and a beer. "I'll have the same thing all over again." I need a nap, but there is no time.
Chilaquiles verdes at Señor Moose. © Ryan Schierling
I've been tasked with an errand, and that is to procure as many loaves of Essential Baking Company's Rosemary Diamante bread as I can shove into a carry-on. Bill and I drop by Trader Joe's on top of Queen Anne and I clean them out. This is the only bread Julie will make egg salad sandwiches with, and we've not found its equal in Texas. I keep my promises, and we move on.
In a space that used to be a Capitol Hill art supply store, is Willy Wonka's Coffee Factory. Actually, it is the new Starbucks Reserve Roastery & Tasting Room, and those five-dollar fancy, fluffy coffees you all have been buying have built them a beautiful, state-of-the-art space. There are rare and expensive coffee beans flowing from floor to ceiling through a winding maze of transparent tubes and there's more polished brass than you've ever seen in your life. If you ever wanted to know what $50-a-pound coffee tasted like, you need to visit. There is an extensive gift shop, a Tom Douglas Serious Pie outpost, and if you dig deep enough, you might also find the subterranean coffee river, and Oompa Loompas roasting beans in a series of caverns under Capitol Hill-Ville.
We walk down the street for something more familiar, The Comet Tavern. The Comet closed in 2013, and then reopened, cleaned up, like it'd successfully been through rehab. Back in the day, it was an honestly grungy bar where you could drink cheap beer and see the best of the worst and the worst of the best bands play in a dirty corner of the room.That corner of the room is still there, albeit tidied a bit with picnic tables dragged in, but it doesn't look like The Comet has seen a live band for a while. You can, however, drink Rainier while tech dudes work on their laptops and bros yell at sports on the flatscreens at the bar. I'm disappointed but not surprised. Austin's lost a lot of great shitholes too, only to see them resurrected for a new crowd with more money and no interest whatsoever in what the space used to mean. Bill and I will eat the tater tots, but we will not like them.
(L) Starbuck's coffee factory thingy. (R) Nice try, Comet Tavern. © Ryan Schierling
We visit a few friends, and ultimately end up in Georgetown – south of downtown and north of Boeing Field (is it SODO or NOBO?) in the former bastion of manufacturing and industry now described as "bohemian blue-collar chic," where "rail yards, antique shops, and refurbished lofts dot the neighborhood, where everyone from artistic beatniks to hipster families has carved out a spot in this creative hub."
Right. Old favorites Nine Pound Hammer and Smarty Pants have been infiltrated by artistic beatniks and hipster families alike, and newcomer Fonda La Catrina serves 100% Mexican Food so proudly there are no prices on their dinner menus online. All three are packed, so we wander about trying to find an alternative. We run into Hope Simpson, who fronts Ever So Android with Drew Murray, and played with Spanish For 100 the night prior at The High Dive. We talk for a bit about the photos Bill shot, then head over to Via Tribunali. Pints of beer, a pizza Margherita and a Misto Salumi are a nice way to round out the evening, and ultimately, my trip. Man, I'm feeling it – a nearly hallucinagenic mix of sleep deprivation, non-stop tourist mode and a little bit of sadness associated with closure. I'm grateful I was able to see Spanish For 100 for their final show, but it's time to go home. My flight isn't until 5 am, and the original plan was to close out some random bar at 2 am and cab it to SeaTac. That's not going to happen. I have Bill drop me at the airport and the next six hours is purgatory – a haze of walking the concourses, fiddling with my phone and processing all that I've done in the last 30 hours. When I board the plane at 4:30 am, I collapse into my seat and give in to deep sleep.
I wake to a jolt and Texas sun is streaming into the windows. I put my headphones on and press play. You go away, you come home.
Listen to all of Spanish For 100's music here. Start with Metric, which is where I began.
You can thank me later.