To be perfectly honest, I do not know anything about Aaron Franklin. I do not know where he grew up or where he honed his barbecue skills.
Aaron Franklin, serving up Franklin Barbecue. © Ryan Schierling
I do know there are a great number of mouth-watering disciples proselytizing furiously for Franklin. Magazines (
the November 2010 issue of Food & Wine heralded Franklin Barbecue as one of the best U.S. restaurant openings
), newspapers (
Austin Chronicle and Dallas Observer have effused
) and local food blogs (
too many to mention
) fall all over Franklin.
I have tried my best to avoid influence.
I subscribe to the mantra of "
believe nothing of what you hear and only half of what you see
."
Taste is the truth, the way and the light.
It's nearly 2011. "Trailer food," once heralded as the next wave of culinary adventure, is already being lambasted as played-out, from Portland to Pensacola. Too popular, too quickly, they said, and now the food-hipsters are haters.
But, as I find out, Franklin is not trailer food. Open only a little more than a year, there are a pair of enormous propane tanks that have been converted to smoke meat, and apparently, communicate with the Gods. The white and aquamarine trailer serves only as food dispatch and cash-out, an ever-so-brief altar between the heat and the
eat
.
We arrive at 10:20 a.m. and there are already six people queued up against the fence, waiting for Franklin to open the padlock at 11 a.m. Ahead of us in line is Stevie Ray Vaughn's Double Trouble drummer Chris Layton. The line continues to grow.
Franklin Barbecue queue on old FujiPress 800, Horizon 202. © Ryan Schierling
When Franklin finally opens the fence, I am starving, threatening to eat the containers of onions and pickles next to the paper towels and the Charlie Brown-looking tabletop Christmas tree. But like making good barbecue,
serving
good barbecue takes
time
, and Julie, Gary and I have no issues with waiting for what Franklin makes a friendly, genuine and downright
backyardy
interaction when cutting the meat.
For the brisket description, insert all of the
best
barbecue colloquialisms and sexual euphemisms you can think of. What you have read is true, Franklin's angus brisket is a beautifully-barked, stunningly smoke-ringed, moist and juicy piece of peppered meat that just begs for a hot fight with anything out of Lockhart or Luling. It doesn't matter if you get the fatty or lean brisket, this beef absolutely slays tradition and convention.
Brisket and ribs, w/ slaw and potato salad. © Ryan Schierling
The ribs are pull-apart, not fall-apart, and delicious with a hit of the thinner, vinegar-based sauce (one of three provided on the picnic tables). Potato salad is mustardy, tangy and creamy; slaw is slightly sweet, mild and crunchy – a "Zan and Jayna, Wonder Twin powers, activate" kind of fist-bump that, together, made the sides more than the sum of their purple and yellow parts.
Gary orders an extra pound of sausage to go, and I regret not taking a link or two when he offers it up. The pig/cow grind is complemented by just a bit of beef heart and it's one of the best, snappiest sausages I've had in Texas.
I have read that Franklin Barbecue has signed a lease on a brick-and-mortar location, and all I can say is that I'm feeling
privileged
to have finally been a customer standing in line against a barbed-wired chain link fence off of a sketchy frontage road on I-35, waiting, waiting and waiting in front of a two-tone trailer for Texas communion – Sunday morning two-meat plate with potato salad and slaw. (Oh, and the pulled pork sandwich I ordered but could only eat half of... not enough room at the inn.)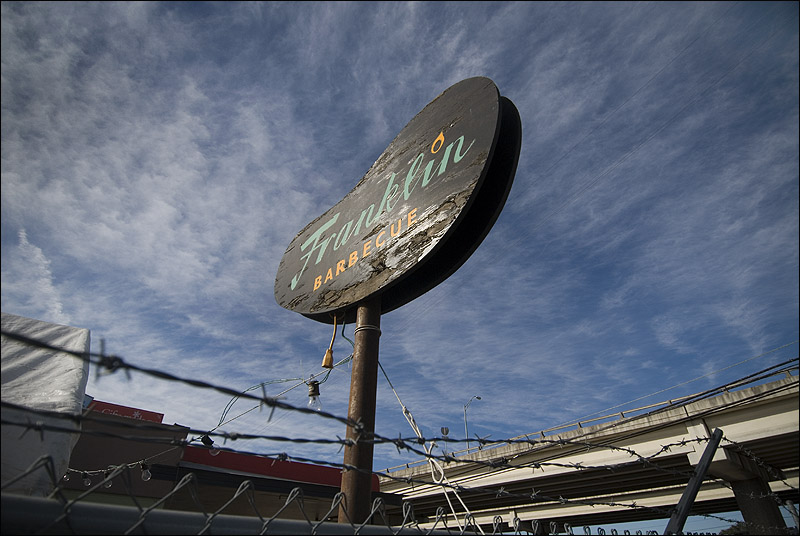 Off I-35N. Get there early. © Ryan Schierling
I pray that quality and consistency keep Franklin on the path to enlightenment as this restaurant grows. Because he is close... so close... to being Texas-fucking-sainted.