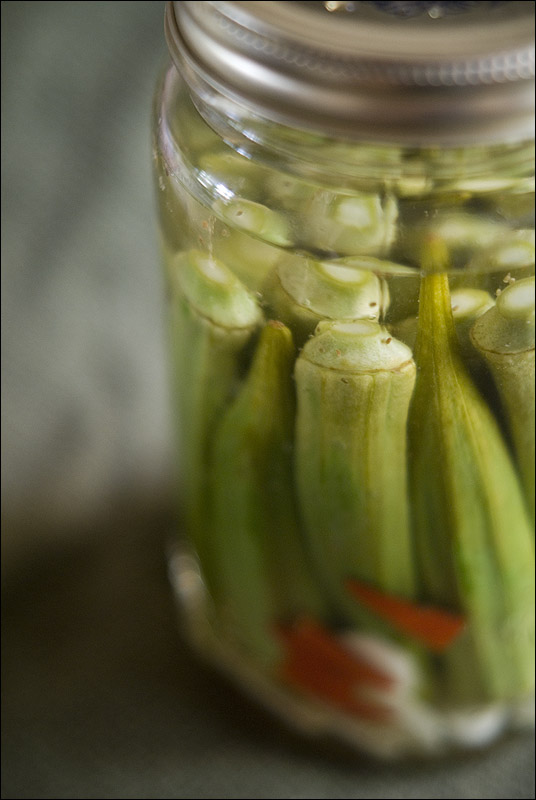 Wait for it. © Ryan Schierling
Nobody likes okra. There's no good use for it. It's unsightly, it's slimy and mucilaginous, it's a disgusting fibrous little pod that has no redeeming qualities and even less flavor. The only possible way to eat it is to batter it, deep-fry it and dip it in ranch dressing, which is (while delicious) the
lowest common denominator
for food. You could deep-fry poison oak leaves, dip them in ranch and they would be palatable (until your throat swelled shut).
Okay, I'll take that back. No, not the lowest common denominator part about frying vegetables and dipping them in ranch dressing, but the part about okra being completely unlovable.
A friend with a quarter-acre garden had an okra bounty this year that was entirely unmanageable. He gave away gallon-size plastic bags of the stuff, and would have another one for you before you could even think of what to do with the last one.
Of course, we sliced, rinsed, soaked in buttermilk, battered and fried them. We made Bhindi Masala (turns out that slime cooks away nicely). We pickled them with tons of garlic and Tabasco peppers from our garden.
(L) Garlic and Tobasco peppers. (R) Okra, pre-pickling. © Ryan Schierling
And now, surprisingly, every time I snag a spicy, crunchy, pickled pod from one of the many, many jars in the refrigerator, I can't help but think how pretty those ugly little things are.