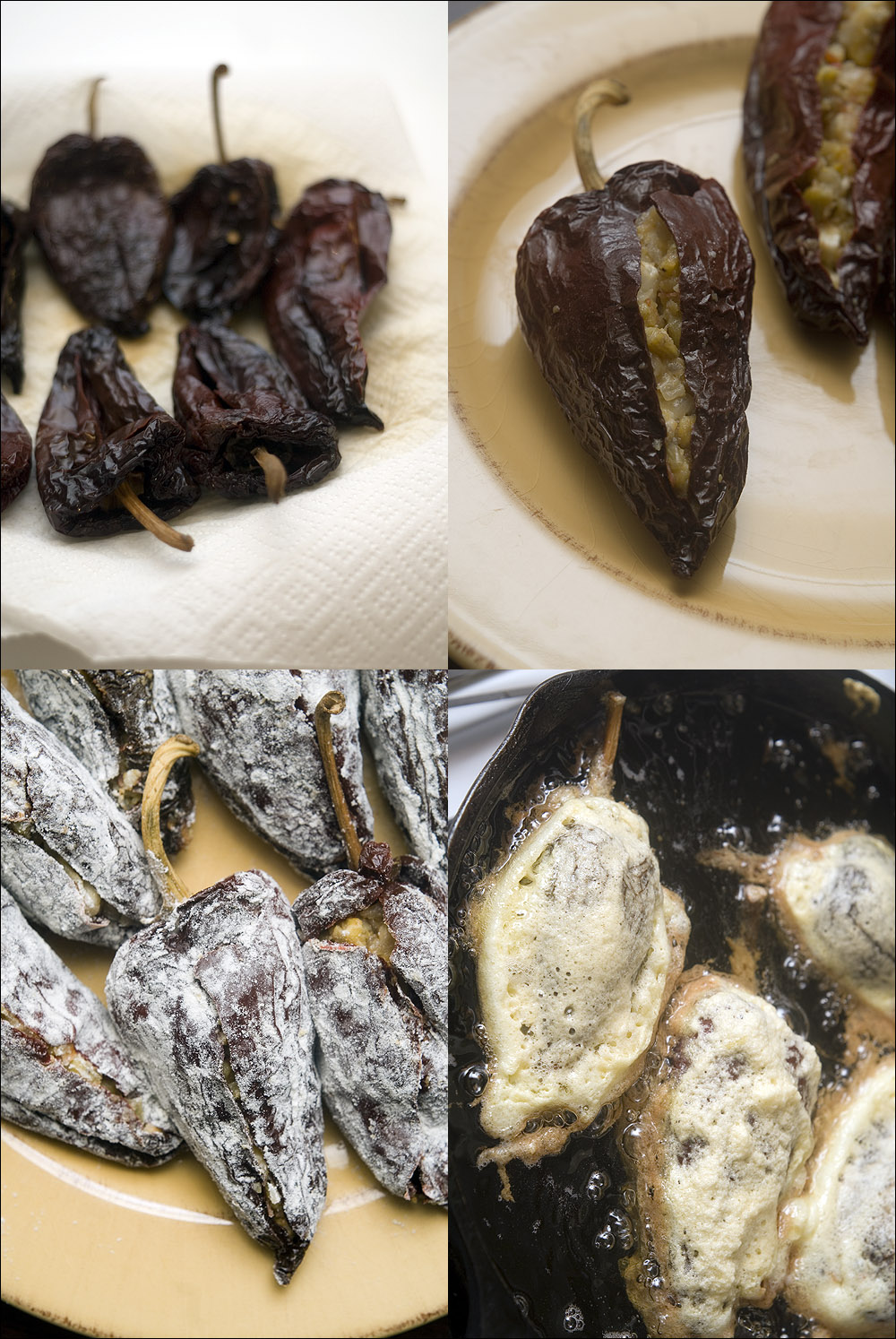 Soaked, stuffed, floured, fried. © Ryan Schierling
Most times, cooking is a harmonious collaboration of ingredients and effort.
Sometimes, cooking is a forestalling endeavor that ends in a three-way fistfight because there are too many questions asked, too many variables unknown. And a wise man once said "
How much can you know about yourself, you've never been in a fight? I don't wanna die without any scars. So come on; hit me before I lose my nerve."
The best chile rellenos I've eaten were at a north-Seattle restaurant called The Chile Pepper. That said, getting good Mexican food in Seattle was like asking for fresh Copper River salmon in Little Rock, Arkansas. The Chile Pepper served what I know now to be a rehydrated ancho chile, stuffed with mostly-melty tangy cheese and pan-fried, topped with a.... eh... I don't remember. A spicy red sauce. Something. It was delicious in its novelty – every chile relleno I'd eaten to that point was a roasted Hatch or Anaheim green chile, stuffed with bland monterrey jack, fried in a heavy batter and left soggy on a plate with a sad wet beans and dry rice combo.
I have not eaten restaurant chile rellenos since we've been in Texas. There are far too many other options right now to try, things I've been waiting for, delicious authentic dishes to stuff into my craw.
But we were up north at Fiesta Supermarket on a lazy Thursday, and I found myself filling the basket with what seemed like randoms: ancho chiles, ripe plantains, fresh crema, queso panela, loads and loads of fresh jalapeños.
When I finally tried to figure out what to do with everything, I turned to the internet. Turns out, the chile rellenos I wanted to eat were a feisty brawl between three different recipes from three very different sources: Chiles Anchos Rellenos by
Martha Stewart
, Chiles Rellenos by
Rick Bayless
, and Chile Rellenos by
Masa Assassin
.
Martha Stewart has prison cred, a tiny pink teardrop tattooed under her left eye, and I used her street-hard method for softening the dried ancho chiles. Rick Bayless is a brilliant chef who has transformed and uplifted what the world sees as Mexican hoi polloi to hoi oligoi, but he still continues to celebrate the street (see
Jenny from the Block
). I used Rick's wonderfully simple Quick-Cooked Tomato-Chile Sauce and his whipped egg batter
from our much-used
"Authentic Mexican"
cookbook
. Masa Assassin provided the innards, a delicious ripe plantain filling with onion, garlic, queso panela and tomato.
Ancho chile relleno stuffed with plantain. © Ryan Schierling
The results were absolutely wonderful, better than The Chile Pepper in Seattle ever served us. But this was a first effort. And we still have to explore what Austin's chile rellenos have to offer.
So come on. Hit me, before I lose my nerve.