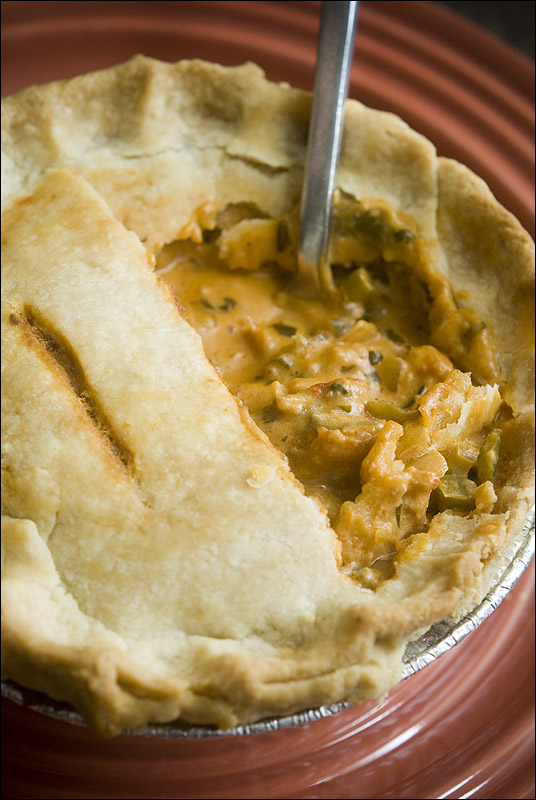 Crawdads, no. Crayfish, no. Crawfish, yes. Pot pie. © Ryan Schierling
Ten years ago, a friend in Washington who was a Houston-expat would occasionally travel back to Texas for business. Before he went to the airport to return to Seattle, he'd fill up a cooler with dry ice and Hebert's frozen crawfish pies, duct tape everything securely shut, and check it with his luggage. They were like Cajun gold, and he'd rather the airline accidentally send his suitcases to
Montreal
than misplace his cooler full of crawfish pies.
I didn't really understand the attraction. I mean, I liked pot pies, but I'd never had a seafood pie, let alone tasted one with crawfish in it. When he finally gave me a few to heat up, I figured it out after the first few bites. It was a foreign flavor, but still rich and comforting the way pot pies should be. The golden, flaky puff pastry crust was buttery and almost melted on the tongue. The crawfish itself I could only describe as salty, and a little fishy (sea-gamey?), like shrimp's bad cousin who did some time upstate. But the creamy, cheesiness of the filling countered nicely and balanced things out. I really liked it, but it was a taste that was very specific to a region, and I didn't grow up in that region.
I only had a few of those Hebert's crawfish pies, and as delicious and different as they were, over the years I forgot about them entirely.
Now, we're a day trip away from Louisiana. During crawfish season, from March to June, you can't miss the squirming bins of live mudbugs at the fishmonger and local grocers – waiting to be boiled, pinched, pulled and sucked.
We went to our first crawfish boil this summer, and I found out that there are two types of crawfish eaters – those who suck the head and those who do not. I may be a northern transplant,
but consider me a head sucker
.
When it's not crawfish season, you can still find two or three different brands of tail meat in the frozen sections of most decent grocery stores.
For some reason, this week I decided I wanted crawfish pie. So, I looked up Hebert's Specialty Meats and tried to go back to the beginning. The 8 oz. pies looked like little raviolis and were $5 each (plus shipping). That seemed a bit excessive for nostalgia's sake. I thought about driving to Houston, but then found out that Hebert's is actually in Tulsa, Oklahoma, so I really wasn't sure what to do. Then I remembered the frozen crawfish tails at the grocer.
I never thought this would be a recipe I'd make. It seemed like something you'd have on a Gulf Coast vacation, or at your friend's mama's house in New Orleans. But it didn't seem that difficult, given the ingredients for Hebert's pies: crawfish, onions, margarine, cream of mushroom soup, pastry dough, milk, cream cheese, bell pepper, green onion, parsley, salt, red pepper, paprika, black pepper, garlic powder. So I gave it a shot.
To be honest, recreating this took forever because I ended up making two separate pie fillings. One was crawfish, the other was as improvised vegetarian as crawfish gets, because Julie doesn't go for the mudbugs.
Make the dough first.
That said, I do not bake much. Too much science there and my ad-libbing with ingredients doesn't work out so well. I needed a flaky pie dough recipe that was battle-tested and time-honored, so I went with Julia Child.
Flaky Pie Dough (from Baking With Julia)
5 1/4 cups pastry flour or all-purpose flour
1 tablespoon kosher salt
1 1/2 sticks (6 oz.) cold unsalted butter, cut into small pieces
1 3/4 cups (11 oz.) solid vegetable shortening, chilled
1 cup ice water
Now, I could have made the dough in the stand mixer with a paddle attachment, or in the food processor, but I chose to work this one out by hand, with J's pastry blender.
Mix the flour and salt together in a large bowl. Add butter, and using a pastry blender (or your fingers, if you prefer), cut it into the flour until the mixture looks like coarse crumbs. Be patient, this will take a while. Break up the shortening and add bits of it to the bowl. Still working with the pastry blender (or your fingers), cut in the shortening until the mixture has small clumps and curds. Switch to a wooden spoon and add the ice water, stirring to incorporate it. When the dough is sufficiently moist, pinch it – it will stick together. Turn the dough out onto a work surface and fold it over on itself a few times. Lightly gather it into a round. The dough will be soft, but it will firm sufficiently in the refrigerator.
Wrap the dough in plastic and refrigerate for at least two hours or for as long as five days. When the dough is thoroughly chilled and firm, it is ready to roll out and use in any recipe calling for a flaky pie crust.
Crowned, uncrowned. Oven-bound. © Ryan Schierling
Crawfish pie filling
1 lb. crawfish tails
8 oz. cream cheese
1/2 of a 12 oz. brown ale, bock or other dark beer
2 tablespoons butter
2 tablespoons flour
1 small white onion, chopped
1 green bell pepper, chopped
3 ribs celery, chopped
1 bunch green onions, chopped
1 cup chopped flat-leaf parsley
14 oz. can diced tomatoes
juice of 2 lemons
1 teaspoon cayenne pepper
salt and pepper to taste
Vegetarian "Crawfish" pie filling
8 oz. cream cheese
1 3 oz. bag Zatarain's crawfish, shrimp & crab boil
1/2 of a 12 oz. brown ale, bock or other dark beer
2 tablespoons butter
2 tablespoons flour
1 small white onion, chopped
1 green bell pepper, chopped
3 ribs celery, chopped
6 large white mushrooms, roughly chopped
1 sweet potato, cut to 1/2" dice
8 oz. frozen corn
16 oz. frozen okra
14 oz. can diced tomatoes
1 cup cooked medium-grain white rice
1 bunch green onions, chopped
1 cup chopped flat-leaf parsley
juice of 2 lemons
1 teaspoon cayenne pepper
salt and pepper to taste
Both fillings began with a sauté of onion, bell pepper and celery in the 2 tablespoons butter. When the vegetables were tender, I added a couple tablespoons of flour and stirred everything up for about five minutes, then added (to each filling) 6 oz. of Real Ale's Brewhouse Brown Ale, and then hit it with a whisk. I brought it to a simmer for a few minutes and the sauce started to thicken up. The canned tomatoes (with liquid) and cayenne pepper were then added.
Here's where the fillings diverge.
I wanted the vegetarian version to take on some of the flavors of a crawfish boil, so I cooked diced sweet potato, okra and corn in water with the packet of Zatarain's crab boil until the sweet potato was just tender, then drained and added the vegetables to the mix. I reserved two cups of the crab boil liquid from the vegetables and then used it to cook the rice. (Note: you will end up with double the amount of vegetarian filling because of the addition of sweet potato, mushrooms, okra, corn and rice.)
Then, I added the lemon juice and mixed in the cream cheese until it was well incorporated and everything had taken on a nice light orange color. I stirred in the green onion and parsley, then gave it a taste. Yep. Right… about… there. I adjusted seasonings (the veg version needed far more salt and a bit more cayenne) before spooning the mixture into pot pies (or onto whatever hand-pie dough configuration you've decided to make).
Veg "crawfish" hand pie. © Ryan Schierling
Pies were baked at 425 degrees for 30 minutes (or until crust was golden brown).
We might eventually call on Hebert's for Turducken or some stuffed quail, but I think for now, we've got crawfish pie covered quite nicely.