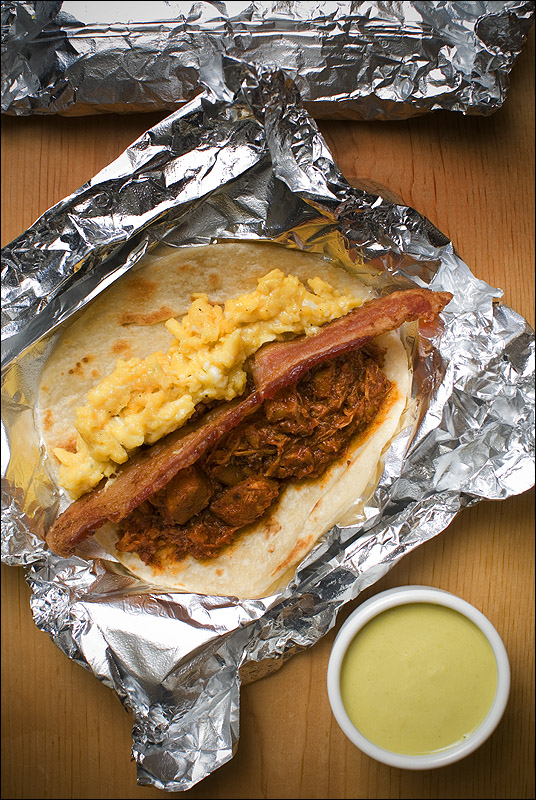 Three little pigs, potatoes and eggs. © Ryan Schierling
Austin may call itself the live music capital of the world, but it's actually the breakfast taco capital of the world. I'm also pretty sure there are more solid Mexican restaurants and taco trucks than there are music venues and bands in the ATX. Some of my favorite breakfast tacos, ever, have been doled out of a soft-sided cooler from the back of a mini-van driven by a little Hispanic lady with some bad-ass homemade hot sauce to drizzle over the foil-wrapped deliciousness. They're everywhere – ubiquitous and cheap enough that you would never even have to think about making them at home.
And I never did, until our "taco lady" that got me hooked on her amazing picadillo, her tangy nopales and creamy homemade refritos, her handmade tortillas that would leave a kiss of flour on your lips, her rippin' hot homemade salsa, stopped showing up in her mini-van at the shop every morning. I'd been cut off, cold turkey, and it hurt.
Six months is enough of a morning mourning process, and I simply can't abide the new "taco man" that pulls up in his green Chevy Blazer, honking his horn and passing off hard-scrambled eggs with Jimmy Dean sausage in a gummy, sweaty, store-bought flour tortilla. Today, I made two dozen breakfast tacos with pork, potatoes and chorizo in red chile, bacon and soft-scrambled eggs and took them to work.
When the "taco man" pulled up, no one bought… and I got a hearty "Hombre vato!" from the guys, which I take as "not too bad for the white guy of Russian/German heritage."
Pork in red chile
3 pounds pork (I used a 50/50 mix of pork chops and pork roast), cut into 1" cubes
2 medium red-skinned potatoes, cut to 1/2" dice
12 ounces pork chorizo
6 dried guajillo chiles
4 dried ancho chiles
8 cloves garlic
1/4 cup apple cider vinegar
1 tablespoon dried Mexican oregano
2 teaspoons kosher salt
1/8 teaspoon ground cumin
1/8 teaspoon ground cloves
1/8 teaspoon ground cinnamon
1/8 teaspoon cayenne pepper
Remove the stems, seeds and membranes from the dried chiles. Toast the chiles briefly on a dry, hot comal or cast iron skillet over medium-high heat, just until they become fragrant and brown a bit. They will soften up and become very pliable… like a spicy and delicious pair of expensive leather gloves. Put the chiles in a medium-sized bowl and cover with boiling water, then place a plate on top of the bowl to keep the chiles submerged for 15 minutes.
While the chiles are soaking, take the garlic cloves (paper skins still on) and place them on the dry skillet. Roast them, turning often, until there are charred spots on the skins and the garlic is soft… about 10 minutes. Remove and let cool.
Take the chiles out of their soaking liquid and put them into a food processor or blender. Taste the chile soaking liquid. Is it overly bitter? Throw it out and put a 1/2 cup water in with the chiles. If it's not too bitter, put 1/2 cup soaking liquid in with the chiles. Squeeze the garlic cloves out of their little charred paper jackets and add to the chiles, along with the cider vinegar, Mexican oregano, salt and spices. Run the blender or food processor until you have a thick, deep red paste.
Chop two medium-sized red-skinned potatoes into 1/2" dice. Put the potatoes into a crock pot and place the pork on top. Cover with the red chile paste. Cook on high until the pork is tender and begins to pull apart, about 2 hours. Alternately, you can set the crock pot to low, and let the whole thing simmer all day while you're at work.
To finish, put the chorizo in a large skillet over medium heat. Cook until well-done and just slightly crispy, about 15 minutes. Drain off most of the bright red fat, then add the chorizo to the cooked pork and potatoes in the crock pot. Mix well.
Bacon
1 16-ounce package of your favorite bacon
There are many methods for cooking bacon. I tend to use a sheet pan lined with aluminum foil in a 350-degree oven because there's less grease spatter than with a stovetop skillet, and the oven can bloody clean itself. Put as many strips of bacon as you can fit on the sheet pan (there's no such thing as leftover bacon). Set a timer for 20 minutes and check the crispiness. Drain on paper towels.
Soft-scrambled eggs
Scrambled eggs. Man, this one really pushes my buttons. I refused to eat scrambled eggs until a guitar-playing rock star showed me how to make them properly – a skillet over low heat, constantly stirring until the eggs came together like moist cheese curds. Remove from heat, season and serve. We don't eat scrambled eggs very often at home since over-easy is our preference, but when we do, we do it proper.
That said, scramble your eggs.
Tortillas
Get a few dozen 8" flour tortillas. Some nice ones. Don't embarrass yourself here, man.
Heat the tortillas on a dry skillet until they're nice and pliable, then lay down a pork side, lay down an egg side. Place a crispy bacon strip between them, lest the fighting begin. Add a drizzle of your favorite hot sauce and you've got the true desayuno de campeones.