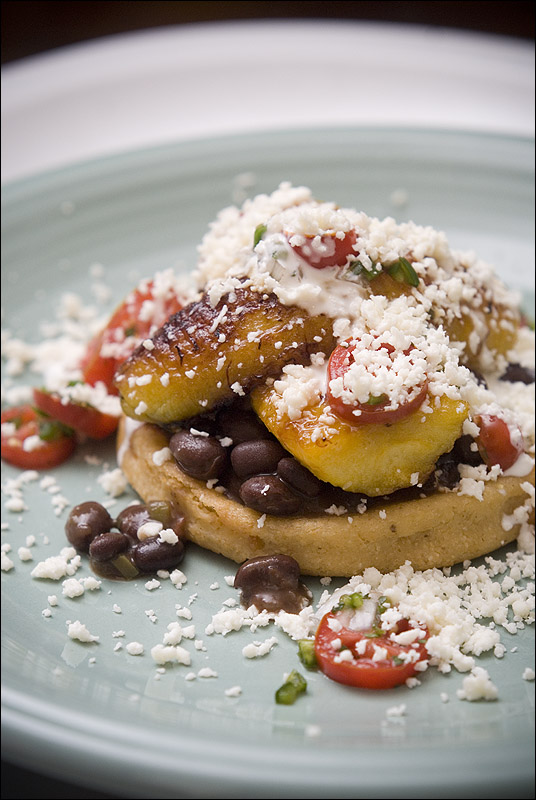 Sopes con platanos. © Ryan Schierling
As far back as memory serves, I've had a food crush of biblical proportions on masa de maize. Unlike plain old cornmeal or fresh-roasted corn, masa is made from corn baptized (or cooked… whatever... semantics) in a solution of slaked lime. I'm pretty sure there must also be some kind of mystical ceremony involved before these divine kernels are ground into this dough-of-the-gods. My personal food mythology even goes so far as to claim that the manna collected by the Israelites as they wandered
the desert
was actually masa. I'm just that committed.
There are certainly lots of wonderful Mexican items that are created from masa – tamales, tortillas, gorditas. But the one I believe shows the best that masa can be is in sopes, with just enough tender cakiness to highlight the fresh masa flavor and a brief deep-frying which gives them a wonderfully light golden crunch.
The little restaurant that introduced me to proper chilaquiles is the same joint that introduced me to this sope – Señor Moose Café. Reasonable prices, unassuming and casual, this place serves up "Mexican Mexican" food. Comida tipica from many regions of Mexico grace their menu, with an authenticity that does not shy in the least from using ingredients such as chicken livers and/or making their own 25-ingredient mole. The sope with plantains (sope con platanos) on their breakfast-lunch menu was a deeply-appreciated favorite of mine. And, once again, I have been driven to making my own out of a desperate sense of loss and burning desire. When it gets to the point that you're considering booking tickets to either Seattle or the state of Nayarit in Mexico, you know it's time to get cooking.
This isn't going to be a post about how to make sopes. Instead I'll defer to Rick Bayless and his beautifully-detailed instruction in Authentic Mexican. Read it thoroughly, including the "cook's notes," and surrender to its every direction. Fresh masa is magical, if you can find it. I used the "common method," as I wanted to make them about 4" in diameter and found that the "split method" was a little dangerous to cut at that larger scale (it's great for little antojito-sized sopes, though.)
It's no secret that Ryan and I love fiery foods. We cultivated our appreciation on Thai food, and moving to Texas we found that gratitude immediately transferred to the hot hot peppers and spicy sauces that influence, inspire and occasionally inundate Texan, Mexican and Tex-Mex recipes. However, I have arrived at the point where I am endeavoring to conscientiously and judiciously back off on the nuclear heat and really revel in the mild flavors of simple foods affording sweet, salty and subtle salvation. Leave the hot sauce in the hot-sauce locker (yes, we have a hot-sauce locker), this one is just fine without.
Making sopes. © Ryan Schierling
Whether you think of this as breakfast fare, or choose to serve it for dinner, every bite is sure to be a heavenly revelation. The creamy sweetness of the plantain is the perfect compliment to the gently savory black beans, fragrant sopes and the salty cotija. And with every bite, the tang of pico de gallo and crema rounds out the harmony of flavors. If you're mindful, you may even hear an angelic choir.
Sopes con Platanos,
Assembly order – with notes:
Sope – Common method, as per Rick Bayless recipe from Authentic Mexican cookbook. The sopes can be formed ahead of time, fry just what you need before serving.
Black beans – Plain and simple is fine, but we enjoy our lightly-seasoned quick and easy variety, per the recipe below. You just need enough to fill the "little boat" that is your sope.
Sweet plantains – They are perfectly sweet when the skins are partially-to-mostly black. Peel and cut in half lengthwise, then through the middle. Fry on both sides in a skillet with 1/8" vegetable oil depth until caramelized and toasty brown. One plantain will serve two nicely.
Pico de gallo – The simple pleasure of tomatoes, onions, chiles, cilantro and lime... easy-peasy. You only need a spoonful, but those pretty little rounds of cherry tomatoes Ryan used for this one really knocked my socks off!
Mexican crema – If you're not lucky enough to have a Mexican grocer near you, a little drizzle of crème fraîche or sour cream will work too.
Cotija cheese – Crumble well and be generous. No substitutions! A girl's gotta have her limits, and this is the icing on the, well... masa cake.
Our House Black Beans
3 tablespoons olive oil
1/4 large sweet onion, finely chopped
1 small jalapeño (green or red), finely chopped including membrane and seeds
1 clove garlic, minced
1 medium tomato, diced small
1 teaspoon of chopped fresh cilantro
35 ounces (total) canned black beans (1 can 15 oz. and 1 can 20 oz.)
1 small sprig epazote (optional)
water, or poultry broth
In a medium saucepan, heat oil and add onion, jalapeño and garlic. Sauté until onions are nearly translucent, then add the tomatoes and cilantro and continue to cook until heated through. Add the beans (you may drain both cans, or rinse and drain one can and pour the other straight in, liquid and all) and stir in a little water and/or broth to achieve a slightly soupy pot of beans. Add the sprig of epazote at this point, and simmer for 15 minutes to thicken and allow flavors to blend.
Add water as necessary to achieve desired consistency. Season to taste. Serve.