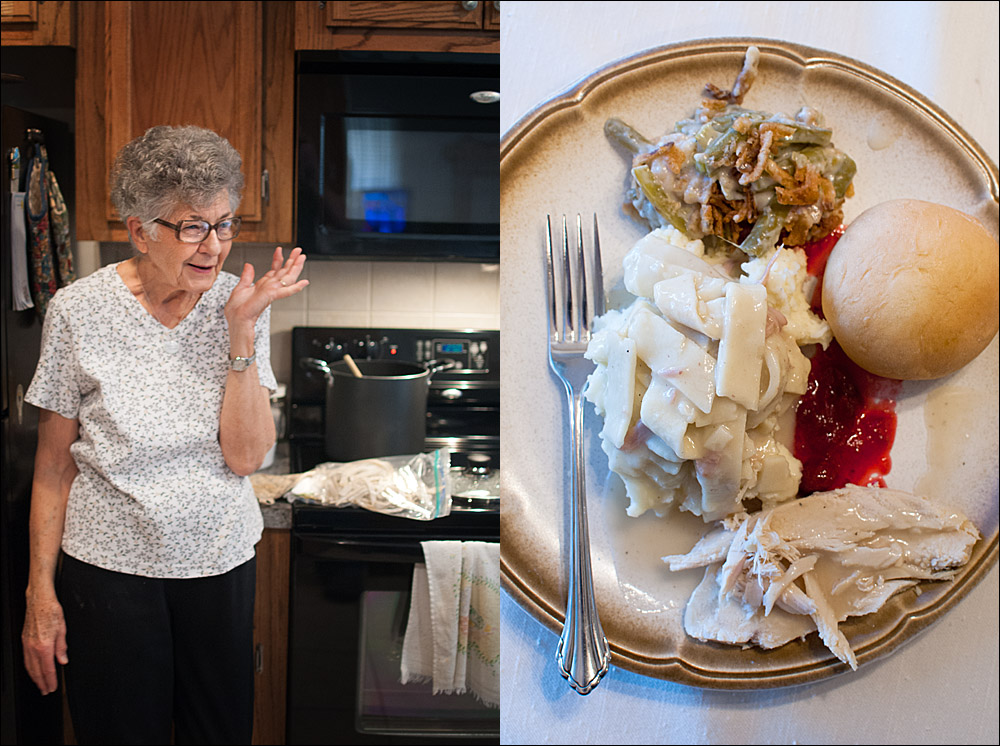 (L) Grandma in the kitchen. (R) Turkey & noodles, center stage. © Ryan Schierling
When the time to taste-test the noodles comes, Grandma Dot is curt, and slightly critical.
"They're tough,"
she says immediately.
"They need more time."
For those noodles, we will gladly, patiently, reverently
wait,
year after year.
In this age of ever-faster food there is one ingredient often unavailable – one that not everyone can afford, and that ingredient is
time
.
This recipe is a legacy, going back more than 100 years and at least four generations in our family. It may predate my Great Grandma Carpenter, but hers was the first turkey and noodles I remember having as a young child. When I was a bit older, Grandma Dot's holiday meals weren't complete without turkey and noodles. My mom's been making them for years as well, and I've finally gotten a hand on the family egg noodle recipe to go with my own turkey stock.
If you like chicken and dumplings, you'll
love
these noodles, simple and swaddled in a velvety turkey stock thickened by the flour-dusted noodles themselves. Served over mashed potatoes, they are
the
holiday side that everyone in our family looks forward to more than the main course itself. But, they take time.
My mistake when initially cooking this recipe on my own was treating the egg noodles like pasta – when they were al dente, I thought they were done. Not so, I learned. Grandma's noodles cook for about four hours in her homemade turkey stock, and by dinner time, the noodles are succulent, tender and infused with the flavor of the rich stock.
For making stock here at home, we usually get the smallest turkey we can find, a few days before we plan to make turkey and noodles. I typically brine the bird overnight, then spatchcock (butterfly) it and cook it over indirect heat on the grill. Julie's a fan of the open-face
hot turkey sandwich
, and that's where the majority of the breast meat goes. The rest of the bird – bones and flavorful dark meat – is for stock, cooked slow and low in the oven overnight.
Turkey stock
1 turkey carcass
2 large sweet onions, sliced
4 large carrots, chopped
2 celery stalks, chopped
2 bay leaves
6 cloves garlic
1 tablespoon cracked black peppercorns
a few sprigs fresh thyme
salt, to taste
Remove all racks from your oven except for one on the very bottom, then preheat oven to 180 degrees F. Place turkey bones and any left-over meat in a large stockpot. Cover the turkey with at least one inch of water and bring to a simmer on the stovetop. Carefully move the stockpot from the stovetop to the oven, uncovered, for at least 8 hours or overnight. Remove stock from oven and add remaining ingredients. Bring the stock back to a low simmer on the stovetop and cook for one more hour. Strain the stock through a chinois, or fine-mesh strainer. Add salt to taste. Chill, then remove the layer of fat from the top (this fat can be used in a roux to make a side of turkey gravy).
Grandma's Egg Noodles
3 egg yolks
1 whole egg
3 tablespoons cold water
1 teaspoon salt
2 cups flour
In a large mixing bowl, beat eggs well. Whisk in water and salt. Stir in flour a little at a time. Once dough begins to come together, turn dough out onto a floured cutting board or counter and knead in the last of the flour.
Separate the dough into 3 equal portions.
Using a rolling pin, or pasta maker, roll out each piece of dough to 1/16" thick. Roll the dough up into a jelly-roll shape, then cut into 1/4" strips.
Unroll and separate noodles, dust generously with flour and dry between two kitchen towels, or hang on a pasta rack for at least an hour. At this point, the noodles can be cooked, or frozen for future use. Before adding noodles to stock, cut any extra-long noodles to about 6 inches in length.
Add a good handful of noodles to 4-6 quarts of gently simmering turkey stock. Stir. Continue to add noodles a handful at a time, about 4 handfuls. I know, I know, these measurements are a little vague, but trust me, you'll know when you hit the right equilibrium between noodles and stock. After gently simmering for hours, the noodles will be tender and fat, and the stock has thickened to near-gravy consistency. Add salt and pepper to taste, serve over mashed potatoes.