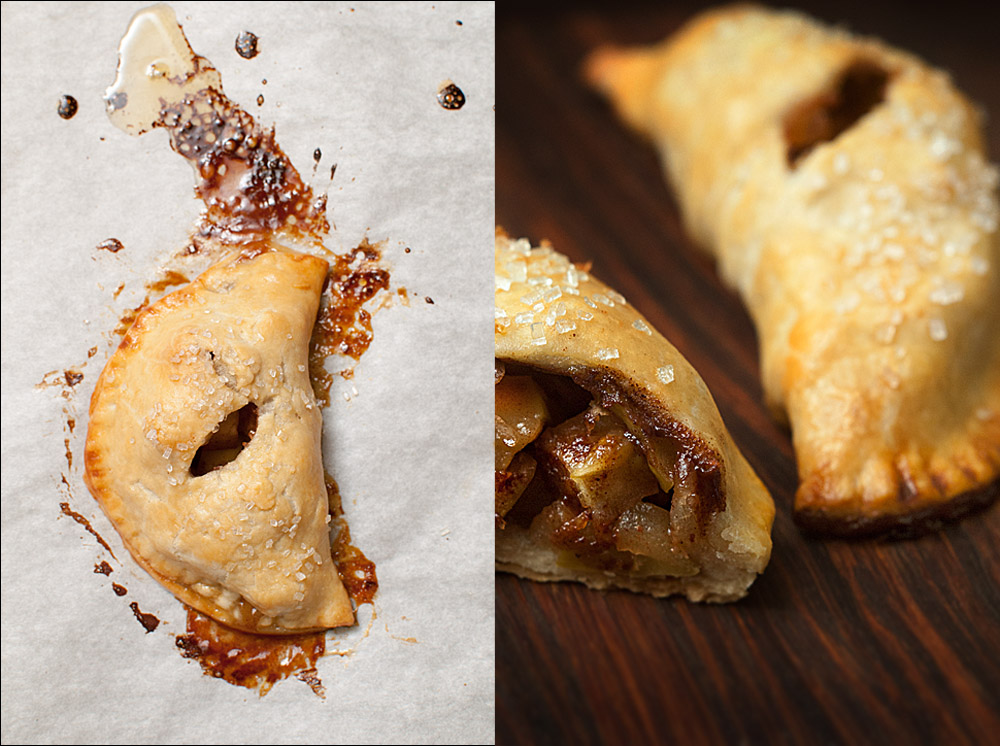 Apple toddy hand pies. © Ryan Schierling
In a brazen act of nostalgia, I bought one of those Hostess™ apple fruit pies. It was a timely impulse, as it was just a couple of weeks before I learned the brand was going out of business. I remembered enjoying them as a kid, and on the day of my purchase I was curious how I would feel about them now – and how wide the chasm compared to homemade. As it turns out, getting past the first bite on this nostalgic interlude required a level of food masochism I was simply incapable of entertaining.
Yes, occasionally, I like to make little apple hand pies. They are easy and fun, and with just the two of us in this household the presence of a whole pie is downright daunting.
These recipes are simple and can easily be whipped up in the time it takes to reduce an apple to a quarter-inch dice and roll out a batch of double-crust pie dough.
Heck, if you have a handful of delicate dough left over from those pot-pies you just busted out – use that to assemble a few little hand pies and throw them in the oven while it's still hot.
My intention was for this to be a happy little story to document our trusty apple hand pies, just the apple-filled single-serving pastry to satisfy that all-American pie craving this holiday season. My typical filling includes heavy cream, which is uncommon, t
hough not entirely unheard of – it seems to be of German or Dutch influence. I have no idea where I picked up this nifty trick, but that little bit of cream conspires to do the work of butter and flour with those delightfully-tart Granny Smiths. I'll include that recipe below, as well.
You see, before I managed to actually make a batch, I got soundly derailed.
I blame four flights in two days, utter holiday exhaustion, the resulting riotous head colds, and many, many hot toddies.

As a matter of comfort and medicinal faith, I gravitate to honey and lemon when I'm sick. This week we also happened to have a bottle of bourbon and a half-gallon jug of spiced apple cider in the house. After a few curative toddies, I still wanted to make hand pies. But, whilst delirious with fever, I had an idea...
Apple toddy hand pies
1 large apple (your favorite variety), 1/4" dice (include peel, exclude core)
50ml (a mini-bottle)
bourbon
or
honey whiskey
juice of one small lemon wedge
Allow the above ingredients to sit in bowl (stir occasionally) as long as it takes for cold pie dough to become workable – about 1 hour.
In a separate bowl, cream together:
2 tablespoons salted butter
3 tablespoons honey
1 tablespoon granulated sugar
1/2 teaspoon cinnamon (up to 1 teaspoon - to taste)
Nutmeg, freshly grated
Dash of ground cloves
Drain bourbon from apples (Save liquid for another toddy, or a tasty shot for the baker!)

Add to apples:
Lemon peel, freshly grated from one whole lemon.

Mix honey butter mixture together with apples. It will look weird and lumpy, but that's okay. It just needs to be evenly distributed as it will work itself out in the oven.
Roll out pie dough* (enough for a double-crust pie) and cut into
5-6" circles. Place a generous spoonful of the apple mixture in the center, wet edges with a little water and gently press edges closed. Crimp edge or use a fork to seal evenly.
Arrange on parchment-lined baking sheet.
Slash the top with a sharp knife and brush with an egg wash (whisk 1 egg + 1 teaspoon water), then sprinkle with sparkling sugar.
Bake
in 375 degree oven for 20 minutes or until golden brown.
Makes about 6-8 hand pies.
* I refuse to get into the problem or particulars of pie dough here. Recipes and resources abound and the best technique is the one you've managed to master. Foremost, I object to pie dough becoming an
obstacle
to baking with it, so you won't hear me judge if it's made from a family recipe passed down through six generations or the frozen kind from the grocery store. Pie dough is one of those things that takes some practice to get the feel for, but fortunately the ingredients are cheap – please don't let it intimidate you. The recipe I chose for these is the tried and true Pie Dough Cockaigne for a 9-Inch Double-Crust from Joy of Cooking. (If you don't own Joy of Cooking, do yourself a favor and pick one up. It will serve you solid.)
Apple hand pies
1 large Granny Smith apple, 1/4" dice (include peel, exclude core)
2 tablespoons brown sugar
1 tablespoon granulated sugar
1/2 teaspoon Saigon cinnamon
Dash (or two) ground cloves
2 teaspoons heavy cream
Pinch of kosher salt
Pie dough recipe for one double-crust pie (similar to Pie Dough Cockaigne for a 9-Inch Double-Crust from Joy of Cooking)
1 egg + 1 teaspoon water (or, optionally, a little more of that heavy cream)
In a small mixing bowl, lightly toss apples together with sugar and spices, plus a pinch of salt. Stir in heavy cream – just enough to moisten.
Spoon apple filling onto small pie dough rounds of 5-6" in diameter (or triangles, or squares – whatever your packet shape of choice). Fold over and seal with water and crimp or use fork along edge. Cut two small slashes in top of each hand pie. Lightly brush tops with egg wash (one whole egg whisked with 1 teaspoon water) or some heavy cream. If you're feeling fancy, sprinkle them with white sparkling sugar or turbinado.
Bake on parchment-lined baking sheet at 375 degrees for 20 minutes, or until golden brown.
These are delicious served warm atop a scoop of vanilla ice cream.