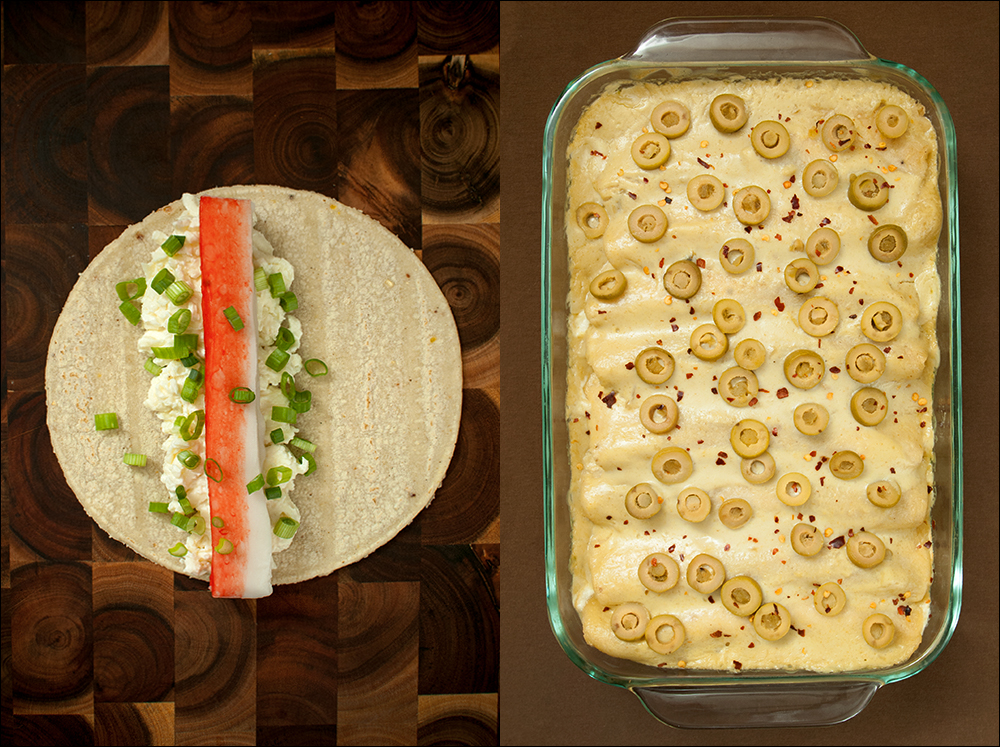 Krab enchiladas – do not attempt without proper supervision. © Ryan Schierling
I have a few favorite, revered dishes from when I was a kid. This one is kind of a geographical anomaly, as growing up in Kansas was as far away from any coastal waters containing crab could possibly be. Billboards advertised "Beef, it's what's for dinner!" (But if you want crustacean, it's probably going to be spelled with a "K.")
And so it was. Krab (aka Sea Legs or Ocean Sticks) – constructed primarily from Alaska pollock, egg white, crab flavoring and red food coloring – was what we got at the grocer in Emporia, Kansas. Mom made these enchiladas with flour tortillas, jack cheese and a white sauce. Think enchiladas suizas, middle-of-the-midwest-style.
I don't make them exactly the way mom did. I've tried lump crab meat and cod, and both taste a little fancier than they should for this preparation. This is, in a sense, modern day depression-era cooking – trying to make something elaborate out of an amalgam. The cream cheese tempers the whole dish well, adding a perceived richness that the faux crab doesn't provide on its own. Kind of like pulling up to Red Lobster for senior prom in a limo that you really can't afford.
So I did switch up the filling up a little and bossed-out the garnish, but had to stay true to the shockingly-red Krab sticks, which are a little like sweet, sweet crabby-flavored string cheese. Don't hate me for loving these.
Krab enchiladas
1 package Krab (leg-style)
16-ounces cream cheese, softened
16-ounces Monterrey Jack cheese, shredded
1 bunch green onions, chopped
Juice of 1 lemon
8 corn tortillas
1 15-ounce can store-bought green enchilada sauce
1/2 cup heavy cream
Jalapeño-stuffed green olives
Crushed red pepper flakes
For the enchilada filling: Mix the softened cream cheese and shredded Monterrey Jack cheese with lemon juice. Chop the green onion. Separate Krab sticks into... sticks.
For the enchilada sauce: Mix the can of green enchilada sauce with 1/2 cup of heavy cream.
Preheat oven to 350-degrees.
Lay down a skiff of enchilada sauce in the casserole. Heat the corn tortillas one at a time, filling with a good amount of cream cheese mixture, one Krab leg and a sprinkle of green onion. Roll tightly and place into the baking dish. Once you've filled up the casserole (about 8 enchiladas), top generously with more sauce and garnish with sliced jalapeño-stuffed olives and crushed red pepper flakes. Cover and bake for 30-40 minutes until sauce is bubbling around the edges of the enchiladas.
Don't tell anyone what you've just done.