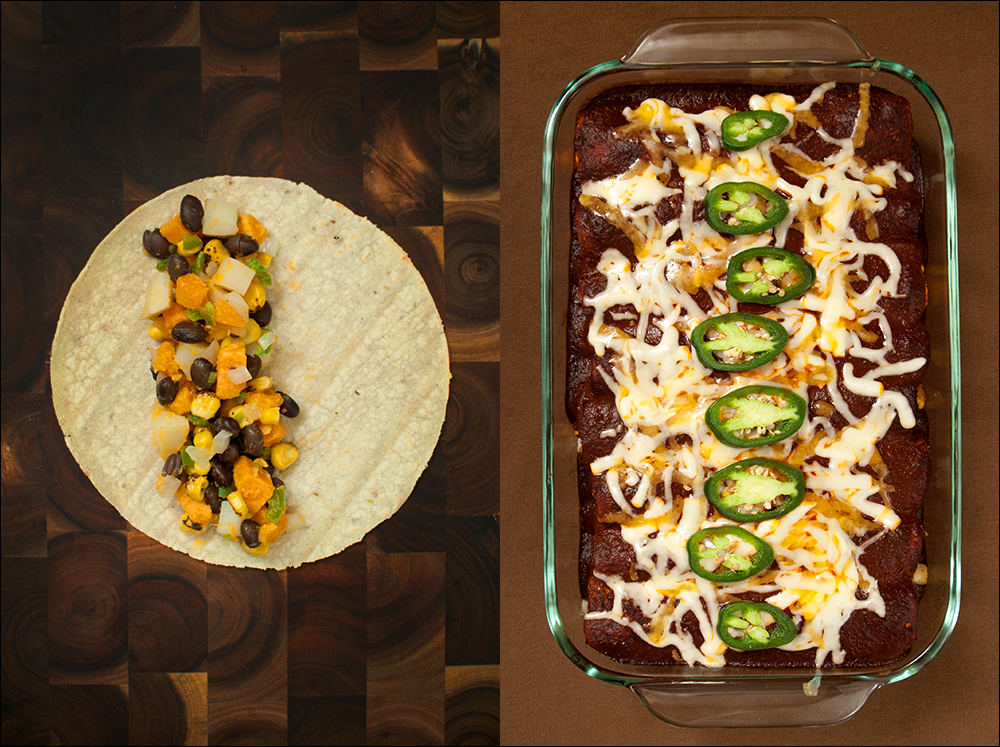 Sweet potato, potato, back bean and roasted corn enchiladas. © Ryan Schierling
Once upon a time, I came across a taco joint in a northwestern town that served a veggie burrito which included sweet potato. It's a rare item to see featured as a vegetable in most Mexican restaurants, and I thought it was downright delightful. The filling for this enchilada recipe was born from that inspiration and my love for simple black bean and corn enchiladas. Nothing fried here, just a hearty mix of colorful goodness with a tasty homemade red chile enchilada sauce.
Can we just have a word here about red enchilada sauces? Somehow I got hung up on this topic at an early age. My mother was raised in Southern California and somewhere along the line developed some very strong opinions about a certain few ingredients. She always insisted that "Las Palmas" brand red enchilada sauce was the real deal – the gold standard in a can. A little label reading in later years proved her point. Most commercial red enchilada sauces are made with a pureed tomato base. Apparently, as far as Mom is concerned, authentic enchilada sauce is made with only red chiles, not tomatoes. As it can still be a little tricky to find the chile-only variety in the average supermarket, I completely understand her brand loyalty. There is definitely an important difference in both flavor and texture, and if you choose to go the canned-sauce route for these enchiladas, I implore you to do a little label reading of your own before making that purchase.
Homemade enchilada sauce is an easy thing to make if you have a good blender and can source the dried chiles. I like the flavor of the New Mexico or California chiles with the Pasilla chiles, as the combination has more of the "enchilada sauce" flavor profile I grew up with. The Arbol chiles give it a friendly touch of heat. However, you can substitute some of the dried chiles to suit your taste. Many traditional recipes recommend using a combination of guajillo and ancho chiles – which happen to be two of my favorites in other contexts for their particular richness and depth of flavor.
Forgive me, but the proportion of filling to sauce between these recipes are not very well aligned. The enchilada sauce recipe will be just about right (maybe a tad bit extra) for a 7x11 pan of 8 enchiladas. The filling you will definitely find yourself with plenty extra. I suggest either making a double batch of enchilada sauce, or plan on using the extra filling for tacos or burritos in the next couple of days.
Enchiladas de la tierra.
2 cups
sweet potatoes,
3/8" cubed
1-1/2 cups
white potatoes (with skins),
3/8" cubed
1 cup white onion, finely chopped
1 large jalapeño, finely chopped (seeds, membranes and all)
1 15-ounce can black beans, rinsed and drained
1 cup corn kernels (roasted fresh, or frozen kernels – Trader Joe's sells frozen roasted corn)
Olive oil
Salt, to taste
Red chile enchilada sauce (recipe below)
8 corn tortillas
1/2 cup shredded muenster and sharp cheddar cheese **
Fresh jalapeño slices – as garnish

In a medium saucepan, add cubed sweet potatoes and white potatoes and just enough water to cover them. Add a pinch or two of salt, cover, and cook on medium heat for about 15 minutes, or until just tender. Drain any excess water off, add a tablespoon or two of olive oil to the pan and then add the onion and jalapeños. Sauté for a few minutes to soften, then add the black beans and corn. Season to taste and remove from heat.
Preheat oven to 350º F.
In an approximately 2-quart casserole dish (roughly 7"x11") add about 1/3 cup enchilada sauce. Warm corn tortillas, one at a time, on a lightly oiled comal. Then add filling, roll snugly, and place in casserole dish with seam side down. Cover top of enchiladas with a generous covering of enchilada sauce. Bake uncovered for about 15 minutes. Remove from oven and add about 1/2 cup shredded cheese. Return to oven and bake for another 10-15 minutes, or until cheese is melty and there is bubbling around the edges.
Garnish with fresh jalapeño slices and serve.
** Omit the cheese or substitute with another garnish, for a perfectly vegan friendly dish.
Red Chile Enchilada Sauce
6 dried New Mexico chiles (or use dried California/Anaheim chiles)
3 dried Pasilla chiles
7 dried Arbol chiles
2 large cloves garlic
1-1/2 cups water
2 tablespoons olive oil
3-1/2 teaspoons cider vinegar
Kosher salt, to taste
Prepare the chiles by, cutting off the stem, splitting them open with a knife and scraping out the seeds and membranes. Then, press them gently onto a hot dry cast iron skillet until they "toast" or bubble just slightly.
Place all the chiles in a bowl (one they just fit in) and pour boiling water over them to cover. Then place a plate on the bowl to keep them submerged. Let them soak for at least 30 minutes to become hydrated and tender. Drain the water off.
Put the soaked chiles in a blender with the garlic and water and blend on high speed. Add the olive oil, cider vinegar and a some salt, then continue to mix on high speed until thoroughly pureed (scraping the inside of the blender with a spatula periodically).
Salt is critically important to bringing out the flavor of this sauce, so just keep adding until it a little at a time until it tastes right.