Tuna melt with Mexican mint marigold (or tarragon, if you please). © Ryan Schierling
Tuna, tuna, tuna, tuna... melty cheese, please.
Tuna salad sandwiches. While ubiquitous culturally, they were never a staple in the meat-free household of my childhood. The closest thing to a tuna sandwich in my experience was probably the Nuteena sandwich – but we never had a melty version of that.
Quite frankly, I never found the smell of tuna sandwiches to be appealing. But, then, it could be that my first real contact with the stuff was working in a less-than-fancy food service environment. While I do enjoy trying new things, I have never been one to bother stretching myself for something that doesn't hold the appearance or promise of present or future enjoyment.
By the time Ryan introduced me to the tuna melt, I already had some decent tuna experience under my belt – just nothing of the cheap, tinned variety. I could appreciate the creamy texture of tuna sashimi, and I enjoyed seared tuna as an entree, but chunk light tuna in water was another thing entirely and I was a bit skeptical.
Now, I probably suggest this comforting sandwich more often than he does.
I remember the first time he made a tuna melt for me, he insisted it was a little different – better – than all those sad versions I'd been exposed to in the past. The magic was in the addition of tarragon. Well, he had me at that, because I'm a weak-kneed fan of tarragon. In fact, my favorite egg salad of all time is mine... and guess what... tarragon!
Since living in Texas, we've adapted to using the beautiful and brightly-flavored Mexican mint marigold that grows so easily in this region and thrives as a stalwart perennial in our herb garden. I wouldn't call it a dead-ringer for French tarragon, as it is actually a bit stronger in flavor, but we love it just the same.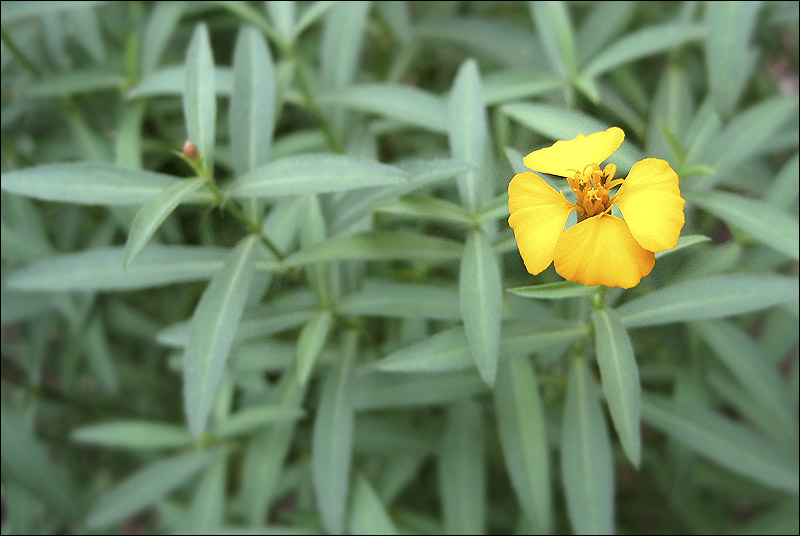 Mexican mint marigold. © Ryan Schierling
Together with the briny dill pickle and grilled up with a mild cheese, this simple tuna melt is a delightful sandwich that now
even I
think is worth sharing.
Tuna melt with Mexican mint marigold
2 5-ounce cans tuna in water, drained and flaked
3 tablespoons real mayonnaise
1 tablespoon whole-grain mustard
1/4 cup chopped dill pickle, or dill relish
1 tablespoon Mexican mint marigold leaves, chopped fine (or French tarragon)
Sliced
Muenster,
Havarti or Provolone cheese
Sliced sourdough bread, or other neutral white bread
Mix tuna, mayonnaise, mustard, dill pickle and Mexican mint marigold (or tarragon) in a bowl. Spread tuna salad on bread, top with cheese and griddle or grill over medium-low heat as you would a grilled-cheese sandwich, until cheese is melty and bread is toasted.