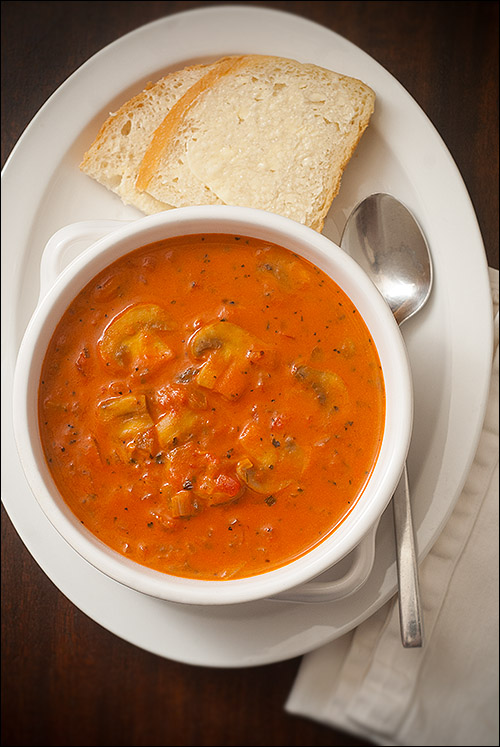 Tomato mushroom bisque with bread and butter. © Ryan Schierling
I moved from Emporia, Kansas to Fort Collins, Colorado in 1991. I was 19, and the little college town was blowing up with micro-breweries crafting incredible beer. If my parents are reading this, I certainly did not partake of alcoholic beverages until the day I turned 21. If you're anyone but my parents reading this, spending the previous year on a University of Kansas dormitory floor of brilliant art majors made creating fake IDs far too simple. Mine was used regularly until the day it was taken away by an overzealous doorman at a Fort Collins bar that shall not be named, and has since shuttered. No hard feelings.
New Belgium Brewing Company had just opened up shop with a dubbel named Abbey and a great little amber called Fat Tire. They only came in 22-ounce bomber bottles, and were unlike anything I'd ever had. O'Dell's Easy Street Wheat and 90 Shilling (still one of my favorite beers of all time) were of the same era, Left Hand Brewing started up in Longmont with their Sawtooth Ale, and soon it seemed you couldn't walk around the block without a new brewpub or home-brew store opening up.
CooperSmith's Pub & Brewing was in Old Town Fort Collins, and a short walk from my first apartment. A few years later, it was a short drive down College Avenue from my second apartment.
I remember their hoppy Punjabi Pale Ale, Albert Damm Bitter, Poudre Pale Ale, throat-and-belly-warming Sigda's Green Chili, Not Brown Ale and Horsetooth Stout. Pints and pitchers were cheap, and when CooperSmith's Poolside opened up next door with a dozen tournament-size billiards tables, I spent the majority of my discretionary income becoming very, very good at playing pool, and even better at drinking beer.
But man cannot live on beer (and billiards) alone. Thankfully, the kitchen at CooperSmith's was as adept at crafting pub fare as the brewery was at building brilliant beers. Their tomato mushroom bisque, served with warm beer bread, was a blessing on so many bitter cold Colorado nights. The deep orange soup base was rich and tomatoey, thick from the Parmesan and heavy cream. There was a little bit of crunch from the sautéed celery and onion, and the mushrooms gave the hearty bisque an unconventional tooth and even more depth. I ate that soup more than anything else on the CooperSmith's menu.
I've had a piece of paper, folded in half, in a pocket of a spiral notebook of recipes that I've been moving around the country with me for a long, long time. That piece of paper has a handwritten recipe penned by someone on the inside, someone working the CooperSmith's kitchen. I was leaving Colorado and I needed to know what was in that delicious bisque. Sometimes all you have to do is ask.
There have been other recipes I've wanted, from local restaurants in other towns I've moved away from, but none are as important as this one. It is peppered with fond memory and the nostalgia of so many good friends, so much good food and drink, and a mid-20s metabolism that could process it all
so
well.
The now-defunct Rocky Mountain News published a version of this recipe in 2005, but their physical archives are now property of the Denver Public Library and their online presence is gone. There are a few iterations of the recipe floating around out there on the web, which are pretty close to what I've got on paper, but this is the one I have used for 17 years. To my taste, it is tried and true, and CooperSmith's still serves this soup today.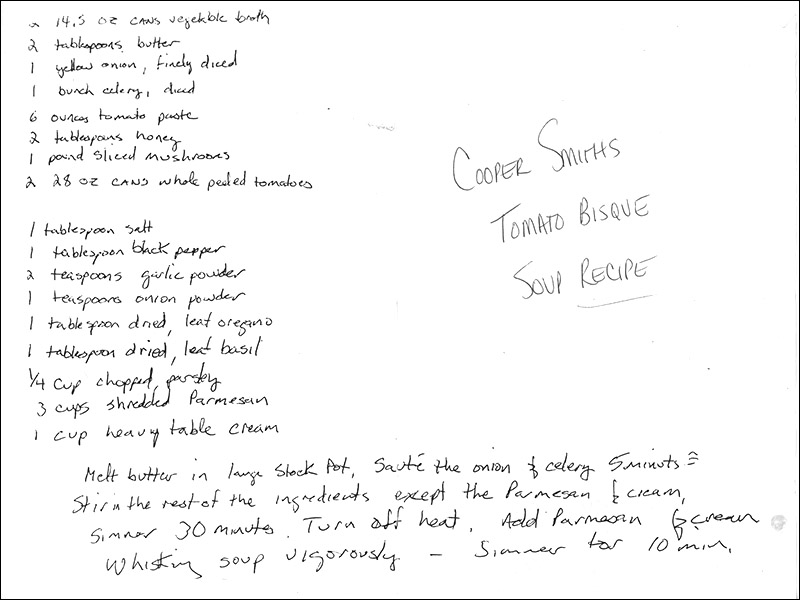 Tomato mushroom bisque recipe, circa 1997. © CooperSmith's Pub & Brewing
CooperSmith's Tomato Mushroom Bisque (as transcribed)
2 14.5-ounce cans vegetable broth
2 tablespoons butter
1 yellow onion, finely-diced
1 bunch celery, diced
6 ounces tomato paste
2 tablespoons honey
1 pound sliced mushrooms
2 28-ounce cans whole peeled tomatoes*
1 tablespoon salt
1 tablespoon black pepper
2 teaspoons garlic powder
1 teaspoon onion powder
1 tablespoon dried, leaf oregano
1 tablespoon dried, leaf basil
1/4 cup chopped parlsey
3 cups shredded Parmesan
1 cup heavy table cream
Melt butter in a large stock pot. Sauté the onion and celery 5 minutes. Stir in the rest of the ingredients except the Parmesan and cream. Simmer 30 minutes. Turn off heat. Add Parmesan and cream, whisking soup vigorously. Simmer for 10 minutes.
*Because of the short cook time, the whole tomatoes don't break down much on their own. You can use the back of the wooden spoon to smash them up a bit, or you can just use tins of diced tomatoes instead.
If you're ever in Fort Collins, visit CooperSmith's Pub & Brewing at #5 Old Town Square.