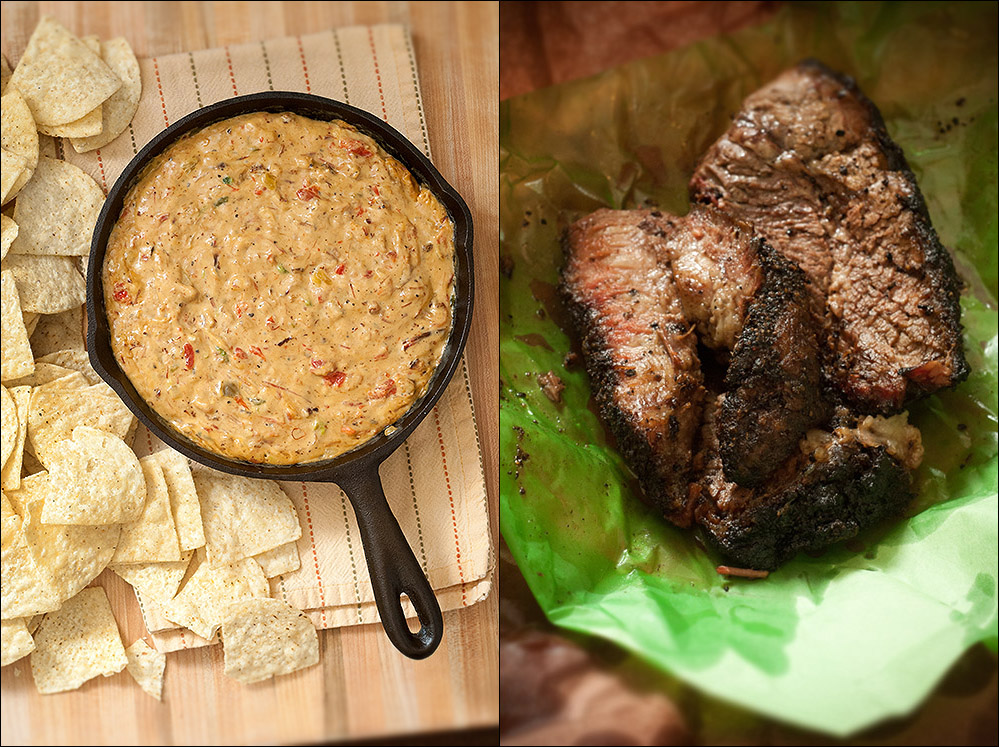 (L) Hot meat dip. (R) Hot meat. © Ryan Schierling
2014... whew. You were a challenging year. We slowed down a bit, opting to spend some much needed time with close family and putting a renewed focus on home, but we still managed to get a
few
things done.
We defended our

2013 East Austin Salsa Shootout win

at Tamale House East and were unfortunately defeated. Sigh. You can't win them all. But we did have a great time and put a few more faces to names that we'd only read on the pages of food blogs and restaurant "About" pages.
Matt Taylor of
Swift's Attic
took home the hot sauce crown, and hats off to the man, the mettle, the restaurant, the recipe.
"Ryan and Julie of Foie Gras Hot Dog, in a giant fuck you to convention, returned to defend their title with a new recipe. Eschewing last year's formula took some serious guts and we salute them." -
RL Reeves, Jr.
We were truly surprised and delighted when the Austin Chronicle named us one of the top ten local food blogs of the year. I can't remember the last time we blushed this much... so many gracious things said, and they called us young!
"This charming, iconoclastic blog presents the foodways and recipes of Julie and Ryan, a young Austin pair with a laudable amount of style and confidence, not to mention excellent taste."
-
Kate Thornberry
Prior to 2014, we had one dip recipe that was off the charts. Our caramelized onion dip – with only three ingredients – became a party staple with a great number of our readers.
"You know how when you're a kid, Kraft mac n cheese is the one true mac n cheese, because you're too young to really appreciate the homestyle mac n cheese that actually goes in the oven with the real cheese and breadcrumbs and stuff? This onion dip is to Lipton onion dip as homestyle mac n cheese is to Kraft mac n cheese. It's for adults. It doesn't fuck around." -
Adam Pranica
Our hot meat dip seems to have struck the same chord, and was Foie Gras Hot Dog readers' favorite post in 2014. A half pound of moist brisket, a brick of Velveeta cheese, Ro*Tel, onions and jalapeños, a shot of pickle juice – it hit every last one of your chip-and-dip tastebuds. It may or may not be coincidence that the brisket came from Micklethwait Craft Meats, which was our

number one post

from last year.
Mexican food rounded out three of the five top spots. The second favorite post was one of our "five days, five ways" entries, with a caramelized onion and mushroom enchilada en mole. It's vegetarian, with so much richness and a long history in our household, and we're glad you finally got to see it.
Number three made us give up secrets about the restaurants we frequent. More specifically, it made us disclose one of our favorite restaurants to eat chilaquiles at, and we put away more chilaquiles than anyone in Austin proper. El Torito on South Congress has one of the best plates in town, and Eater Austin helped bump the numbers on this post a bit.
For number four, you guys are weird. Our carrot flan with feta and carrot top pesto garnered more attention than we thought it would, and I guess sourdough toast crusts became a thing. Who knew? I figured King Ranch salmon would bust out in 2014, but you liked this delicious savory custard better.
The fifth most popular post was an odd, head-shaking enchilada tie. Julie's faux-chicken
Green Chicka-Green-Green
and my
Krab offering
were deadlocked. Our audience apparently digs analog meats and fake krustaceans as much as they do the real deal. Good on you.
All right, that's enough links and nonsense. It's time to start 2015 proper. We'll see you out there, and in here.