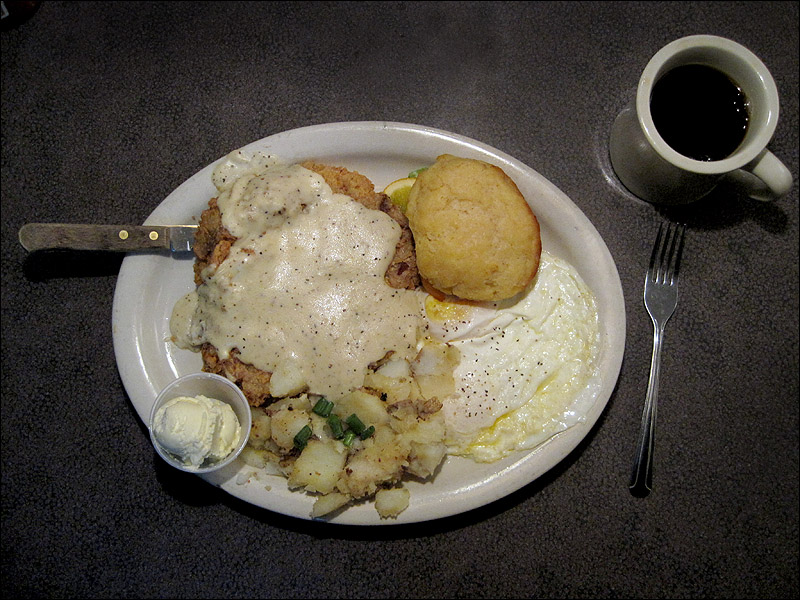 CFS and eggs @ Bakehouse Restaurant & Bar. © Ryan Schierling
I had high hopes for this one.
Sunday mornings I usually spend a few moments looking over my CFS potentials list and then cross reference online to see if that particular restaurant serves a Florentine Benedict.
Julie's taken too many to count for the team when it comes to the meatses – quietly eating sides when I'm shoving barbecue into my face or patiently picking at pancakes when I'm all about the morning chicken-fried steak hunt. She's been denied her favorite breakfast too many times in the quest for
my
favorite breakfast.
She wanted Magnolia this morning. Specifically, she wanted the Florentine Benedict that they'd featured on their specials menu a while back. The menu online for Bakehouse purported to have four different Hollandaise egg dishes – with fresh, from scratch Hollandaise sauce – and it didn't take much arm-twisting before we were heading up Manchaca to try a new breakfast spot.
The Bakehouse front of the house is bar. The Bakehouse back of the house is restaurant, with deep booths and dim lighting. Illuminated globes hang above each table and a giant map of the world adorns the north wall opposite the banquettes. Menus claim to take your taste buds on a global adventure, with dishes from cuisines in Italy, Mexico, China, France, Japan, Morroco, India, Switzerland, along with regional Cajun and Texas fare.
That all seems a bit of a stretch for a bar/restaurant, but how hard is it to make a solid American breakfast, deep in the heart of Texas? In this case, it was a struggle.
The CFS is hand-battered to order, and mine had the perfect texture and tenderness, but both beef and gravy were woefully under-salted. And there was something
off
about the battered, fried crust. Tasted by itself, it was... bitter. Bitter batter. I've never experienced anything like it with CFS, and was disappointed because the textures were so right on. The home fries were forgettable, my over-easy eggs actually undercooked. J's breakfast was, in her words, "blech, blech blech blech. Blech."
To disappoint with
astringent unsavory
I steered you wrong, love